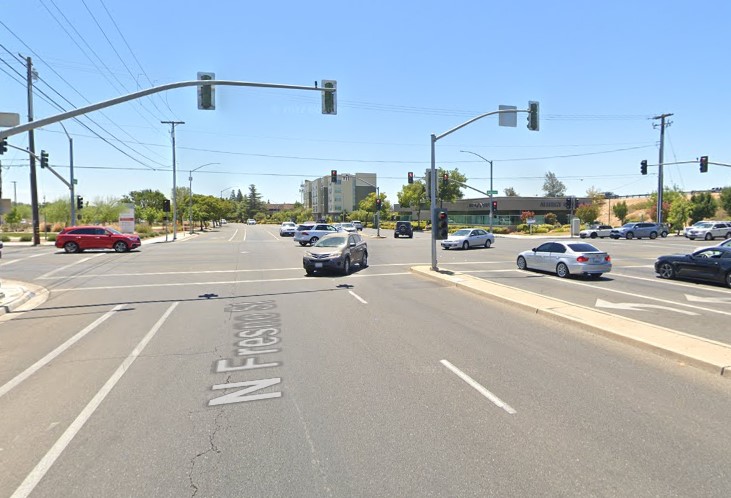 Two young girls were injured after they were struck by a vehicle in Fresno on Monday night, January 1, 2023.
According to reports, the collision occurred around 7:45 p.m. on Fresno and Alluvial avenues.
Authorities received calls about a car hitting three children, aged 11 to 13, who were reportedly crossing the street in the eastbound lanes of Alluvial and Fresno.
According to the authorities, the car had a green signal, and the children did not have the right-of-way when they crossed.
The two girls were then taken to a nearby hospital, and their conditions were unknown.
Meanwhile, the driver and the third child who wasn't hit remained at the site and cooperated with officers.

Pedestrian Collision Statistics
A study by the Governors Highway Safety Association found that 7,485 pedestrians were killed by cars in 2021, a record for the previous 40 years.
Speeding caused 8.6% of pedestrian deaths in 2020, an increase from 7.2% in 2019. Pedestrian safety is highly impacted by speed. From 10% at 23 mph to 90% at 58 mph, the likelihood of a pedestrian being killed increases exponentially with vehicle speed.
A person who is hit by a car typically endures significant injuries. Severe injuries are more likely to occur to pedestrians in collisions with moving vehicles.
One of the main reasons why pedestrians are injured or killed is because drivers fail to yield to pedestrians or brake suddenly.
To stay safe, pedestrians should always use the sidewalk, abstain from alcohol and drugs, and use caution when crossing driveways and parking lots. As a result, they are less prone to sustain injuries during these interactions.
Pedestrian Accident Lawyers in Fresno
Pedestrian safety should always come first, even when crossings are not strictly necessary. A pedestrian always has the right-of-way in collisions. If a legal violation has occurred, the offender will be questioned.
The victim's heirs can file a wrongful death claim to recover damages for their losses. Damages for wrongful death or emotional distress may be demanded.
Our firm prioritizes the needs of our clients first at all times. In a pedestrian collision, our Fresno pedestrian accident lawyers will aggressively pursue the monetary damages their clients are entitled to on their behalf.
By holding drivers responsible for their actions, we want to lower the number of traffic incidents. Contact us at (888) 488-1391 or use our website's "Do I Have a Case?" link to speak with one of our reputed attorneys about your case.