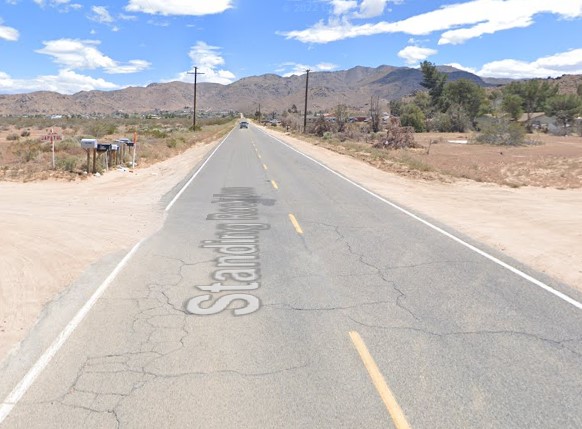 A 15-year-old riding an ATV was killed after a two-vehicle collision in Apple Valley on Sunday afternoon, January 1, 2023.
Reports confirmed that the crash occurred around 4:30 p.m. close to Standing Rock Avenue and Japatul Road.
According to authorities, the boy drove a 2018 Yamaha Quad ATV as he approached the crossroads with Standing Rock Avenue. The intersection of the two streets is an uncontrolled four-way intersection.
When the parties collided, the 2007 BMW 328i driver traveled westbound, approaching Japatul Road.
As a result, the 15-year-old boy, Chandly D., was ejected, landing on his back in a dirt field southeast of the crossroads. The BMW spun counterclockwise when it partially blocked the eastbound lane and came to rest on its wheels with its wheels pointed southwest.
Samaritans allegedly stopped to help the Yamaha driver until emergency personnel could arrive.
Responders immediately transported the victim to Providence St. Mary's Medical Center, where he died shortly after that. Authorities are still investigating what caused the collision.

Fatal Two-Vehicle Collision Statistics
The number of road fatalities in the US has significantly surged in recent years. According to estimates, more than a million people die in auto accidents yearly. Three thousand two hundred eighty-seven people perish in these collisions each day.
Auto accidents result in between 20 and 50 million non-fatal injuries and permanent impairments. Over the past ten years, it has been accountable for 8% of the fatal accidents in the state.
3,322 Californians die in auto accidents per year, up 33% since 2010, according to the NHTSA's Fatality and Injury Reporting System Tool.
Individuals, families, and nations suffer substantial financial losses from traffic accidents. These expenditures result from accidents that result in time lost at work or school, diminished production, and medical bills.
To keep yourself safe on the road, stay a safe distance behind and in front of you, remain alert to potential risks, and follow traffic regulations. Numerous people are killed in traffic accidents even with these protective precautions.
Trusted Car Accident Lawyers in Apple Valley
Following a car accident in California, you may be entitled to receive compensation for your losses (such as pain and suffering, lost wages, and medical expenses).
Our attorneys will outline the measures you need to take and the problems you need to avoid during your initial appointment with our firm to maximize the financial compensation from your case.
Our reputable auto accident attorneys in Apple Valley are devoted to defending accident victims in court. Over $400 million in compensation has been awarded to our clients.
Get a free consultation from one of our attorneys by calling (888) 488-1391 or clicking "Do I Have a Case?" on our website.