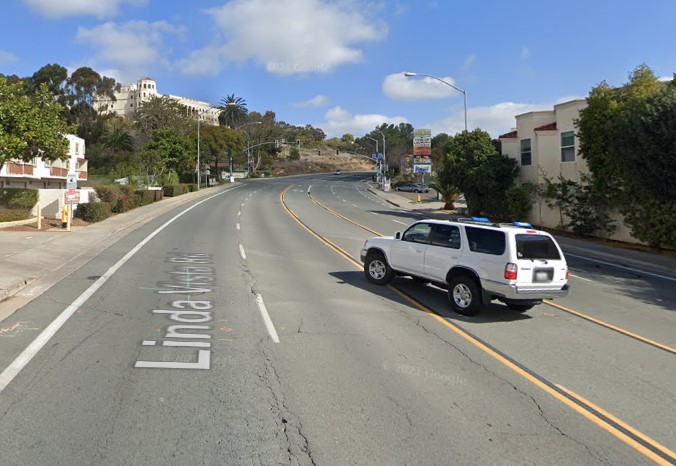 A hit-and-run driver was arrested after hitting a pedestrian in San Diego on Sunday morning, January 1, 2023.
Reports confirmed that the collision transpired around 2:15 a.m. at 5400 Linda Vista Road.
According to authorities, a 25-year-old woman was driving her 2009 Nissan Versa westbound when the man allegedly walked into the driver's path, causing him to be struck.
The female driver did not stop to help and immediately departed the scene.
Police officials said the male pedestrian is not expected to live despite being taken to a nearby hospital.
Later, the female driver came back to the site and was arrested.
Traffic Investigations are handling the collision.
Calling Crime Stoppers at 888-580-8477 is strongly advised if you have any information about the crash.

Hit-And-Run Crash Statistics
The AAA Foundation for Traffic Safety estimates that 680,000 Americans are injured or killed annually in hit-and-run accidents.
Recently, there have been more people killed in hit-and-run incidents. Twenty-four percent of all pedestrian fatalities in 2020 were attributable to these situations.
Recent statistics show that California has the most remarkable rate of severe injuries and fatalities among pedestrians compared to other states. In 2012, there were 893 pedestrian fatalities and nearly 14,000 injuries in California.
A hit-and-run occurs when the motorist leaves the collision site between two vehicles without remaining to assist. In addition to the pain and suffering, social and economic effects of injury accidents, hit-and-run incidents can deteriorate when victims experience delays or do not receive medical care.
Vehicles that fail to yield to pedestrians or brake suddenly increase the likelihood of a pedestrian being killed or seriously hurt. To be safe, pedestrians should cross driveways and parking lots cautiously, walk on sidewalks wherever possible, and abstain from drinking and using drugs when moving about.
Hit-And-Run Accident Lawyers in San Diego
Accident victims who sustain life-threatening injuries frequently face mounting medical expenses and a few years of unemployment. Along with physical agony, victims may also suffer from emotional and psychological discomfort.
It might be difficult and time-consuming to submit a claim and receive compensation. You need legal counsel to protect your rights when an insurance company presses you. Your case could be denied, or the driver's liability reduced due to the recorded information.
Our San Diego hit-and-run accident attorneys are dedicated to looking into the situation as soon as possible. We employ tried-and-true legal strategies with insurance providers to ensure that damages are accurately assessed throughout the settlement.
On behalf of our clients, our company has collected more than $400 million in claims. Our lawyers have the knowledge required to offer you excellent legal advice because our firm has more than ten years of experience.
To schedule an initial consultation, call us at (888) 488-1391 or fill out our online "Do I Have A Case?" form.