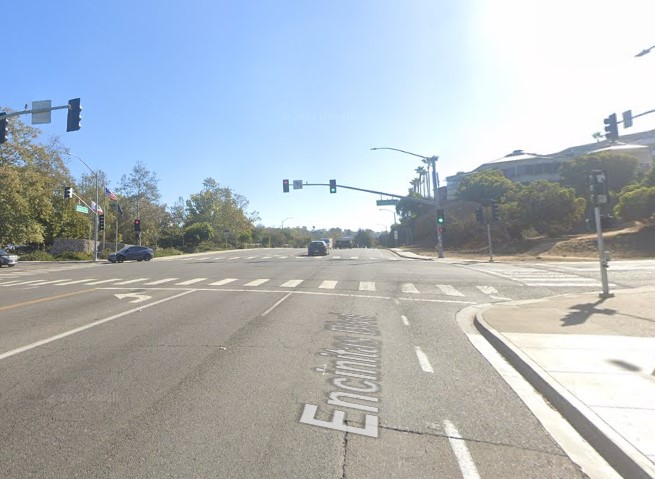 Police are looking for the hit-and-run driver who killed a pedestrian and injured another in San Diego on Sunday, January 1, 2023.
Reports confirmed that the crash transpired around 12:23 a.m. on Encinitas Boulevard close to Coast Highway 101.
According to authorities, a car was traveling westbound when a man was crossing the street heading north.
As a result, the car struck the man and the woman before turning onto West B Street toward the west and driving away.
A witness reported that the two people appeared to be trying to escape the rain and may have crossed at a red signal.
Paramedics arrived at the location and discovered the male victim. He was brought to a nearby hospital and later declared dead.
The car was a dark-colored sedan or van, likely a Chrysler or Dodge, with damage to the front driver's side.
It is unclear whether drugs or alcohol contributed to the collision.
The North Coastal Sheriff's Station's Traffic Division is investigating the crash.
Anyone with information is urged to call 760-966-3500.

Fatal Hit-And-Run Collision Statistics
The AAA Foundation for Traffic Safety estimates that 680,000 individuals are injured or killed in hit-and-run accidents annually in the United States.
Recent studies have found that hit-and-runs increase fatalities. In 2020, these accidents caused 24% of all pedestrian deaths.
According to studies, California has the highest pedestrian fatalities and injuries rate among other states. There were 893 pedestrian deaths and 14,000 injuries in California in 2012.
The act is a hit-and-run when a vehicle strikes another without pausing to offer aid. Because hit-and-run accident victims usually go unnoticed or receive poor medical care, the outcomes and the suffering may worsen.
To reduce their chance of getting hurt in crashes, pedestrians should use sidewalks whenever possible, refrain from alcohol and drugs when walking, and use caution when crossing parking lots and driveways.
Hit-And-Run Accident Lawyers in San Diego
The recovery process for accident victims may take a long time and effort. They may have to spend a lot of money on medical treatment, and they could lose their jobs.
You should contact a lawyer immediately if you have been wounded in a hit-and-run collision. The driver may still be held liable even if they are never found.
Our firm is dedicated to treating every case with attention and diligence. At all costs, we want to hold careless drivers accountable.
Our hit-and-run accident attorneys in San Diego have extensive experience representing victims of hit-and-run accidents. You can count on our firm to defend your rights on a contingency fee basis.
Call (888) 488-1391 or through the website's "Do I Have A Case?" form to arrange an initial consultation.