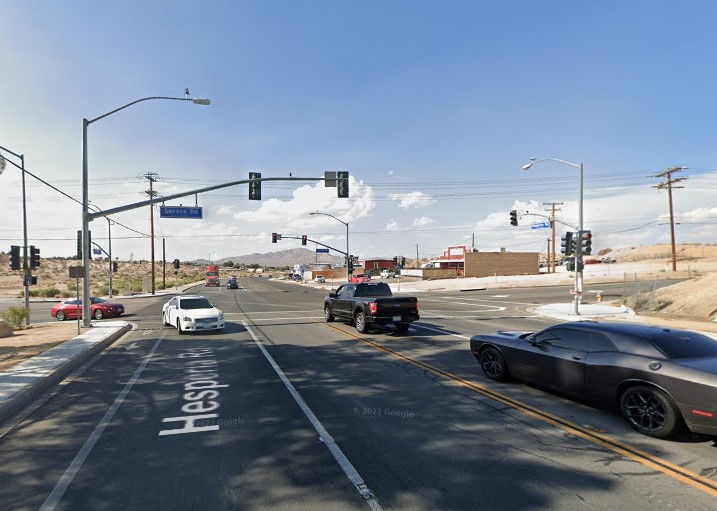 At least two people were hospitalized following a high-speed pursuit that caused a traffic collision affecting several vehicles in Victorville on Monday evening, January 02, 2023.
According to the San Bernardino County Sheriff's Department, the crash caused by an offender with a prior conviction occurred around 10:40 p.m. near the Hesperia Road and Seneca Road intersection.
30-year-old Elvin M. from Apple Valley, driving a white Chevy Tahoe, refused to yield after deputies tried to pull him over for a code violation, resulting in a pursuit.
The driver traveled at high speeds in the opposite lanes before losing control and crashing into a traffic signal. The crash wrecked the suspect's car, and the debris caused damage to several vehicles nearby.
Both of the SUV's occupants, the driver, and his passenger, were taken to a local hospital after sustaining injuries, the extent of which remains unclear. Additional possible injuries are under investigation.
The authorities detained the suspect driver for various charges after being medically cleared from the hospital.

Car Accident Statistics
A rise in road deaths was predicted for 2020 by the National Safety Council due to factors such as people failing to utilize safety equipment like seatbelts, people driving too fast for conditions, and people driving under the influence of drugs or alcohol.
The 8.3% increase in traffic-related fatalities is deeply disturbing after three years of falling fatality rates. A total of 42,338 people lost their lives in automobile accidents in 2020, an increase from the 39,107 recorded in 2019.
To put this in perspective, in 1913, there were 33 fatalities, and by 2020 that number was predicted to drop to 1.53. There were about 1.3 million cars on the road in 1913, and they were responsible for the deaths of nearly 4,200 persons. In 2020, there were a total of 276,000,000 vehicles on the road, resulting in 42,338 fatalities.
The population increased by 0.4% between 2010 and 2020. However, there were fewer individuals, fewer cars, and fewer kilometers driven. Due to this, there was an 8.5% rise in vehicle registrations, a 79% rise in fatalities per 100,000,000 miles driven, and a 21.7% rise in the death rate.
In 2020, over 4.81 million people required emergency medical care due to injuries sustained in automobile collisions. Healthcare costs associated with automotive accidents were predicted to total $473.2 billion.
Car Accident Lawyers in San Bernardino County
Injured passengers in California automobile accidents can seek compensation by filing a claim against the negligent driver or another party. Contact a legal team member from our law firm as soon as possible if you need assistance submitting an insurance claim.
If you or a loved one have been hurt and you want to pursue legal action, you can call us at no cost to discuss your case with an attorney specializing in personal injury and wrongful death cases.
Our trusted car accident lawyers in San Bernardino County have the recognition and vast experience advocating for accident victims. Our clients have been awarded compensation totaling $400 million.
Contact (888) 488-1391 or click the "Do I Have a Case?" on our website to schedule a free consultation with one of our lawyers.