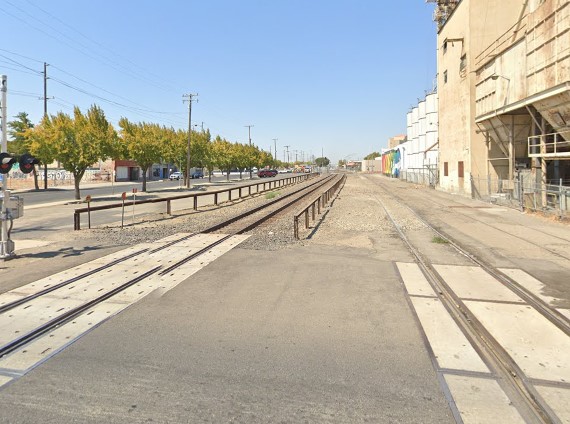 Two people sustained minor injuries after a train struck their vehicle in Modesto on Monday afternoon, January 2, 2023.
The crash reportedly occurred around 4:30 p.m. between Eighth and Ninth streets.
The Kia driver, 28-year-old Theoatis A., was traveling east on I Street with a 28-year-old female passenger when he drove onto the railroad lines.
The driver was traveling at about ten mph as he entered the rails, but he claimed to the police that he didn't see the crossing arm. As a result, the car was broadsided on the passenger side.
Firefighters had to free the passenger who was trapped inside the car.
She and the driver both had minor wounds and were transported by ambulance to nearby hospitals.

Train Collision Statistics
It is estimated that trains collide with people or cars every two hours, according to the National Transportation Safety Board. Railway accidents claim the lives of about a thousand people every year. Approximately 600 people were killed and 2,300 injured.
The National Transportation Safety Board states that pedestrians die more often in railway collisions than in car collisions. A lack of automobile warning systems accounts for 50% of all fatal railway accidents.
Since 1997, more than 7,200 people have died in train accidents in the US. Train collisions with pedestrians are the leading cause of death on American railroads.
The most efficient means of transportation is by train. Conductor skill and frequency of maintenance are factors that affect employee and passenger safety. In addition to being irresponsible, they may use unsafe shortcuts.
Derailments, worn-out tracks, disregard for safety rules, lax security, and other factors can cause a train accident.
Train Accident Lawyers in Modesto
Most people have used public transport systems, such as the subway, at least once. Even though this is a relatively safe and effective mode of transportation, accidents can still occur.
Train disasters still carry a higher risk of damage or death than many other modes of transportation, despite the lesser danger.
Those injured in train accidents may be entitled to compensation, including medical costs, lost wages, and mental suffering.
You can rely on us to negotiate with the insurance company to ensure that your accident-related medical expenses, missed earnings, and pain and suffering are fairly compensated.
Our train accident attorneys in Modesto commit themselves to protecting victims' rights in these collisions. While we pursue compensation on your behalf, you should be able to focus on getting well.
Contact us to arrange a free legal consultation with one of our attorneys by calling (888) 488-1391 or completing the "Do I Have A Case?" form on our website.