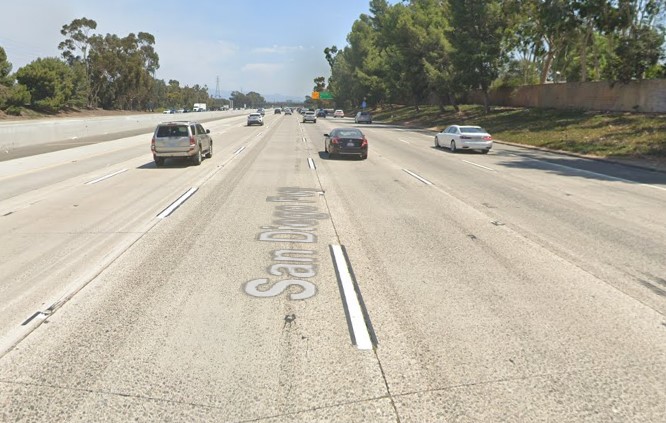 A male pedestrian was killed after getting struck by a vehicle in Irvine on Tuesday evening, January 03, 2023.
According to the California Highway Patrol, the deadly crash occurred around 7:30 p.m. in the southbound lanes of the San Diego (405) Freeway.
The man reportedly ran through the southbound lanes and was hit and killed after crossing the center divider. It remains unknown why the pedestrian ran across the highway.
The authorities released no details on the victim's identity and the driver of the car that hit him.
All northbound highway lanes between Costa Mesa (55) Freeway and MacArthur Boulevard were closed temporarily due to the crash.
The investigation by the CHP officials into the event is still ongoing.

Fatal Pedestrian Accident Statistics
According to statistics compiled by the Governors Highway Safety Association, the number of lives lost in traffic accidents decreased by 14% between 2007 and 2016. There was a 27% rise in pedestrian fatalities over this time frame.
According to the statistics supplied above, we can guess that pedestrians in the United States are at a greater risk than ever before of being seriously injured or killed in car accidents each passing year.
In 2012, 809 people were killed and 14,000 were injured in car accidents in California. The greatest percentage of fatalities and serious injuries among pedestrians in California is quite concerning compared to the other 49 states.
Over 6,000 people were killed in automobile accidents in the United States in 2016. The alarming truth that 88 people were dying every minute grew more and more apparent as 2016 came to a close. About 137,000 U.S. citizens sustained injuries serious enough to require hospitalization the following year.
Pedestrian Accident Lawyers in Irvine
In California, if a pedestrian is wounded in a car accident, that individual has the same rights as a plaintiff in a personal injury or wrongful death case, including the right to sue the person or people they believe are responsible for their injuries.
Imagine that you or a loved one were gravely injured due to the negligence of another person. Our highly recognized legal team is here to assist you in filing a claim with your insurance provider if you or a loved one has been injured or murdered due to the negligence of another.
Our trusted pedestrian accident lawyers in Irvine have extensive experience and accolades advocating for accident victims. Our clients have been awarded compensation totaling $400 million.
Call (888) 488-1391 now or click the "Do I Have a Case?" on our website to set up a free consultation with one of our attorneys.