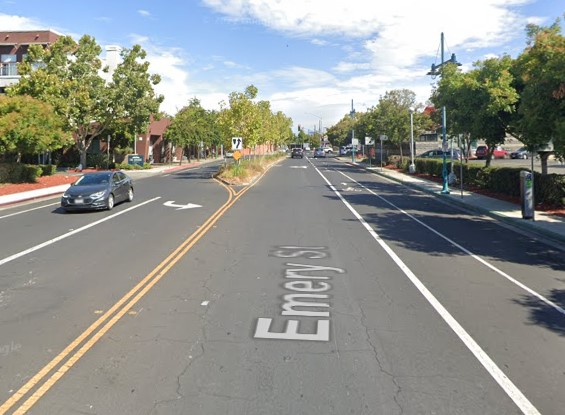 Police are looking for the hit-and-run driver who injured a pedestrian in Emeryville on Thursday night, January 5, 2023.
Reports confirmed the collision occurred around 6:17 p.m. at 3800 Emery Street.
Authorities stated in a Facebook post that they were looking for a van that may have intentionally collided with the victim.
The vehicle was allegedly a white Dodge Caravan, likely an early 2000s model, and its driver was a "tall African-American female with a curly hairdo."
Police officials did not provide the suspect vehicle's license plate.
When officers got on the scene, they assisted the pedestrian. The victim, however, chose to seek medical assistance independently and was not sent to the hospital by ambulance.
The Dodge was last seen on Emery Street going south.
According to authorities, the victim was treated at the hospital and is recovering at home.
If you have any information, call the EPD at 510-596-3700.

Hit-And-Run Crash Statistics
According to the AAA Foundation for Traffic Safety, over 680,000 people in the United States are wounded or killed annually in hit-and-run accidents. Since 2009, the average annual rise in hit-and-run casualties has been 7%.
In 2015, fatalities accounted for 11% of all fatalities in hit-and-run occurrences. A total of 1.8 million people suffered harm from hit-and-run drivers in 2009. As a result of hit-and-run accidents in California last year, 337 people were killed.
A negligent motorist who flees the scene of an accident breaches the law and is criminally liable. Wrongdoers will be punished severely and promptly.
Every year, one pedestrian is killed by a young motorist. According to the available data, hit-and-run drivers are responsible for 60% of pedestrian fatalities.
They are either too intoxicated to care about the outcome or too shocked to drive sober.
Hit-And-Run Accident Lawyers for Victims in Emeryville
Accidents can result in moderate to severe injuries, as well as death. A hit-and-run accident can be extremely frightening. You must know what to do if someone you care about is hit by a speeding car that flees the scene.
It is recommended that you immediately consult a hit-and-run accident attorney. Our hit-and-run accident lawyers in Emeryville have extensive expertise and knowledge of these accidents. They can give you an accurate assessment of the situation.
They specialize in maximizing your compensation, ensuring you receive payment for all connected costs, including medical expenses, suffering, loss of income, and emotional distress.
Our attorneys can assist you in formulating a compelling defense that will increase your chances of success in court. Their experience in court and settlement negotiations demonstrates that they can effectively manage these matters.
To receive a free review of your case, call us at (888) 488-1391 or complete our online "Do I Have A Case?" form.