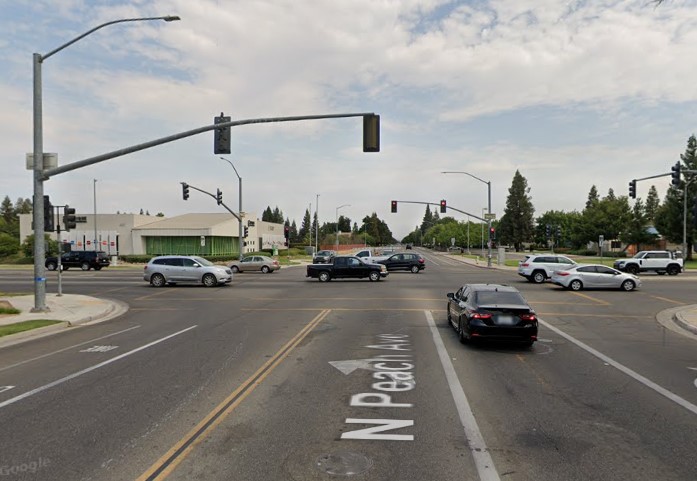 A female pedestrian died three days after being hit by a car in Clovis early Friday morning, January 6, 2023.
According to reports, the fatal crash transpired around 6:30 a.m. close to Nees Avenue and Peach Avenue.
Authorities stated that the victim was walking southbound in a crosswalk when she was hit by a utility vehicle.
The victim, 56-year-old Lisa B. of Clovis, was brought to a nearby hospital in critical condition on Friday. On Monday, she died as a result of her injuries.
According to authorities, the van driver remained on the site and cooperated with investigations.
The driver was not suspected of being under the influence of drugs or alcohol.
The cause of the collision is still under investigation.

Fatal Pedestrian Accident Statistics
According to Governors Highway Safety Association research, a 40-year high of 7,485 pedestrian fatalities was recorded in 2021.
Speed-related pedestrian deaths increased from 7.2% in 2019 to 8.6% in 2020. The impact of speed on pedestrian safety is significant. Furthermore, the pedestrian death rate rises considerably with traffic speed, reaching 90% at 58 mph from 10% at 23 mph.
California has one of the country's highest rates of pedestrian fatalities and collisions. In 2012, the state reported 893 pedestrian fatalities and over 14,000 injuries.
Pedestrians must always use the paths, avoid drugs and alcohol, and use caution when crossing parking lots and driveways. If they take these precautions, they will be less likely to be injured.
Reliable Pedestrian Accident Lawyers in Clovis
Drivers should watch for pedestrians whether or not they are in a crosswalk. Pedestrians are entitled to cross even if there is no designated crosswalk. Any legal violations associated with the pedestrian collision would be determined through an investigation.
The victim's family can sue individuals responsible for the death of a victim. A court may award damages under a variety of circumstances.
If a loved one was injured in a pedestrian accident, trust our pedestrian accident attorneys in Clovis to ensure you are fully compensated for your losses. Negligent drivers must be held accountable for their actions to prevent traffic accidents.
Call (888) 488-1391 or use our website's "Do I Have A Case?" form for a free consultation with an expert California pedestrian accident lawyer.