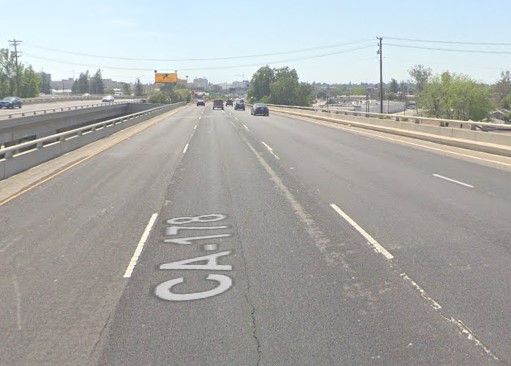 A 58-year-old male pedestrian was killed after getting struck by four vehicles in Bakersfield on Friday evening, January 06, 2023.
According to the Kern County Sheriff's Office, the fatal crash involving four cars occurred before 10:00 p.m. along Highway 178 near Golden State Avenue.
The victim, identified by Kern County Coroner's Office as Dennis B. of Bakersfield, reportedly walked into the path of a car of an unknown model traveling west on the highway to Golden State, which struck him for not being able to avoid him.
The pedestrian was thrown in the air and landed in front of three other vehicles following behind the first car at 35 to 40 mph. They all struck him one after another.
There is no information on whether this is a case of a hit-and-run or whether the drivers stopped and cooperated with the authorities.
It is uncertain if alcohol or narcotics were used during this crash. Anyone with information is urged to contact the California Highway Patrol Bakersfield Office.

Fatal Pedestrian Accident Statistics
The number of deaths that occurred on America's highways decreased by 14 percent between 2007 and 2016, according to data provided by the Governors Highway Safety Association. On the other hand, the number of pedestrian deaths rose by 27% throughout that time frame.
All of the above points to an alarming future for pedestrians in the United States, where they are at an unparalleled risk of serious injury or death as a result of car incidents.
There were 809 fatalities and 14,000 injuries due to car accidents in 2012. This suggests that California has a higher rate of pedestrian accidents overall, even those that do not result in a fatality.
Authorities estimate that there were around 6,000 people killed in motor vehicle accidents in the United States in 2016. 88 deaths were reportedly occurring every minute by the end of that year, according to estimates. About 137,000 people in the United States required hospitalization after suffering serious injuries the following year.
Pedestrian Accident Lawyers in Bakersfield
In California, pedestrians who are hurt or lose a loved one in an accident have access to the same personal injury and wrongful death lawsuit protections as victims of other traffic-related accidents.
Imagine you or a loved one were to suffer catastrophic injuries or even death as a result of the negligence of another person. If that happens, there is a legal mechanism in place to make sure you get the money you're owed. In the aftermath of an accident, you may rely on our highly regarded legal team to assist you in filing a claim with the insurance company.
Our trusted pedestrian accident lawyers in Bakersfield have extensive experience and accolades advocating for accident victims. Our clients have been awarded compensation totaling $400 million.
Call (888) 488-1391 now or click the "Do I Have a Case?" on our website to set up a free consultation with one of our attorneys.