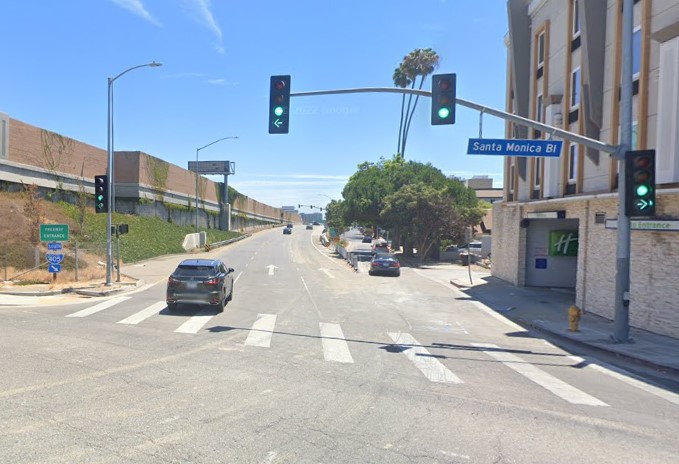 Authorities said one person was killed after being thrown from his car and struck by another in West Los Angeles on Friday morning, January 06, 2023.
According to the California Highway Patrol, the fatal crash occurred around 2:11 along the southbound lanes of 405 Freeway on the Santa Monica Boulevard off-ramp.
The victim, described only as a man in his 20s whose identity was withheld by the Los Angeles County coroner's office until the next of kin is notified, was found lying on the road by the responders.
The man was reportedly hit by at least one car after crashing into the center divider and getting ejected from his own vehicle. The cause of the collision remains unclear.
No further information was provided on the total number of vehicles and drivers involved, including the extent of possible injuries.
While the CHP investigated the collision, all southbound lanes of the highway were blocked for several hours.

Fatal Car Accident Statistics
The National Safety Council expected a rise in traffic fatalities in 2020 due to reasons such as drivers and passengers failing to use safety equipment like seatbelts, exceeding established speed limits, and getting behind the wheel while under the influence of drugs or alcohol.
After three years of declining death rates, the 8.3% spike in traffic-related fatalities is very troubling. The number of lives lost due to car crashes in 2020 was 42,338, up from 39,107 the year before.
From 33 fatalities in 1913, projections indicated the number would reduce to 1.53 in 2020. Roughly 4,200 people were killed because of the approximately 1.3 million automobiles in use in 1913. There were 276,000,000 cars on the road in 2020, which resulted in 42,338 deaths.
There were fewer people, cars, and kilometers traveled in 2020 than in 2010, despite the fact that the population increased by 0.4%. As a result, the number of cars on the road increased by 8.5%, the number of deaths per 100,000,000 miles increased by 79%, and the rate of deaths increased by 21.7%.
Around 4.81 million people in 2020 needed immediate medical attention from injuries incurred in car accidents. It was estimated that $473.2 billion would be spent on healthcare due to automobile accidents.
Car Accident Lawyers in Los Angeles
To recover damages for injuries sustained in an automobile accident, injured passengers in California can file a claim against the driver or any other party they hold liable. If you need help filing an insurance claim, you should contact a member of the legal team as soon as possible.
If you or a loved one has been injured and you wish to take legal action, you can call us at no charge to speak with an attorney about your options in personal injury or wrongful death litigation.
Our trusted car accident lawyers in Los Angeles have the recognition and vast experience advocating for accident victims. Our clients have been awarded compensation totaling $400 million.
Contact (888) 488-1391 or click the "Do I Have a Case?" on our website to schedule a free consultation with one of our lawyers.