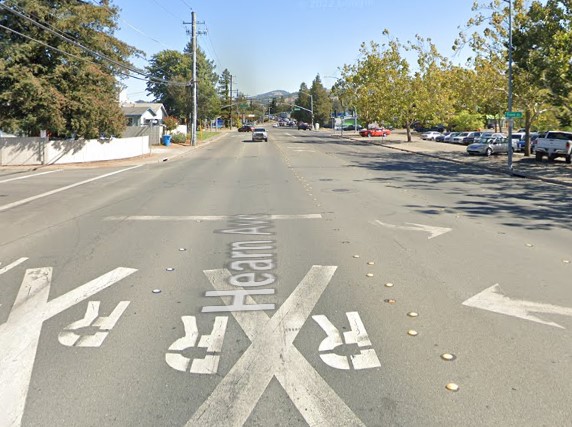 A bicyclist was critically injured in a collision with a vehicle near Santa Rosa on Friday morning, January 6, 2023.
According to reports, the crash occurred around 11:07 a.m. near Hearn Avenue and the Sonoma-Marin Area Regional Transit rails, just west of Whitewood Drive.
Authorities received calls and discovered the victim on the road. The injured male bicyclist was not carrying identification.
Upon investigation, officials found that a white Toyota Camry was westbound on Hearn Avenue toward the train lines when the bike entered the road from a pedestrian path.
The motorist, a Santa Rosa resident, remained on the scene and assisted with the investigation.
Westbound Hearn Avenue between Whitewood Drive and Dutton Avenue was closed at 1 p.m. due to the collision and reopened around 2:30 p.m.
Police are investigating and have requested anyone who witnessed the crash to call them at 707-543-8541.

Bicycle Accident Statistics
Over 800 cyclists were killed in accidents across the country in 2018—12% less than in 2001, but with more fatalities. In 2011, according to the National Center for Health Statistics, 377 bikers died from causes other than traffic, leaving 712 bikers murdered by cars.
According to statistics, California has the country's highest rate of fatal bicycle accidents. According to the National Bicycle Safety Foundation, 145 cyclists were murdered, and 11,116 were injured in California in 2017.
A variety of road hazards routinely endanger riders. Drivers ride too close to bicycles and do not respect their rights, even when it is harmful. As a result, mistakes and even deaths are possible.
Because they fail to offer the right of way, they regularly speed, blow through stop signs and red lights, and pay insufficient attention to the road. Drunk or irresponsible driving might potentially result in a horrific bicycle collision.
Bicycle Accident Lawyers in Santa Rosa
Victims have the right to be reimbursed for their injuries and damages. With the assistance of a lawyer, a personal injury claim may be filed if you were injured in a bicycle accident.
Personal injury victims who submit a claim are entitled to compensation for their pain and suffering, lost wages, and medical expenditures.
A consultation with a lawyer could provide a solid legal ally during this difficult time. All necessary legal papers will be managed, updated, and exchanged with insurance companies on your behalf.
Our bicycle accident attorneys in Santa Rosa have extensive experience representing clients injured in bicycle accidents. Our firm has recovered over $400 million for clients across the state.
To schedule an initial consultation with one of our attorneys, please contact (888) 488-1391 or fill out the "Do I Have a Case?" form on our website.