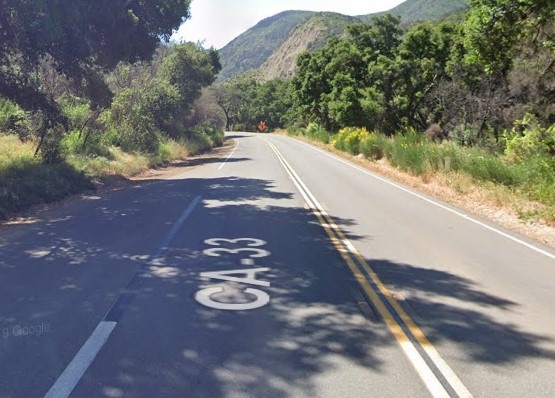 A motorcycle collision killed a 27-year-old rider and injured three near Ojai on Friday afternoon, January 6, 2023.
According to reports, the crash occurred around 2:45 p.m. north of the north fork of Matilija Creek.
For unknown reasons, authorities reported that a 2014 Yamaha was going southward when he crossed over solid double-yellow lines into the northbound lane.
The motorcyclist collided with the front end of a northbound 2021 Hyundai. A 48-year-old male drove the car with three passengers: a 45-year-old woman and two sons, ages 12 and 8. The four people in the vehicle were all from Claremont.
Responders pronounced the 27-year-old victim dead at the scene. His identity was withheld until his family was notified.
Meanwhile, passengers in the vehicle were not severely injured since everyone wore a seat belt. Two people complained of pain, and the 8-year-old suffered seatbelt abrasions, but all refused medical treatment at the time, according to radio chatter from the collision.
There were no arrests. According to officials, it was not immediately clear whether alcohol or drugs played a factor.
Police officials are currently investigating the crash.

Fatal Motorcycle Collision Statistics
Throughout 2017, the Statewide Integrated Traffic Records System recorded 13,907 motorcycle fatalities
In 2020, motorcycle accidents accounted for 14% of traffic fatalities, 18% of occupant fatalities, and 4% of occupant injuries, despite accounting for only 0.6% of vehicle miles driven and 3% of vehicles registered in the United States.
In 2020, California had the most personal and commercial motorcycle registrations. The state has the country's most significant density of motorcycles, and it accounts for approximately 12% of the country's population.
Driver inattention causes two-thirds of motorcycle collisions at junctions. There is a higher risk of motorcycle accidents than other vehicles.
These collisions can be avoided by following a few simple principles. Motorcyclists can protect themselves by wearing helmets and obeying traffic laws.
Trusted Motorcycle Accident Lawyers in Ojai
Motorcycle accidents can be frightening, stressful, and upsetting for both the driver and the victim. It can happen in an instant. You might experience a temporary loss of function and possibly long-term repercussions if you can't afford therapy.
You should speak with an experienced lawyer with a good reputation if you have been hurt in a motorbike accident. If a person or group unintentionally or willfully injures another person or group, they must be held legally accountable.
By filing a claim against the negligent party, Individuals injured in motorcycle accidents may be compensated for damages and other costs sustained by the responsible party.
Our motorcycle accident lawyers in Ojai can help you with these proceedings. Our legal team's expertise ensures that you obtain the necessary assistance and settlement throughout the procedure.
Get a free, no-cost consultation by calling (888) 488-1391 or visiting our website and clicking the "Do I Have a Case?" link.