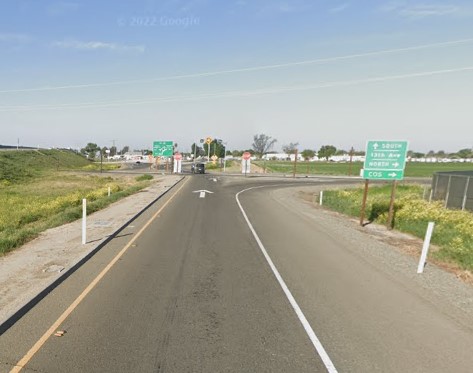 According to the California Highway Patrol, an elderly woman was struck and killed by three vehicles while crossing the traffic lanes on westbound State Route 198 in Hanford on Saturday evening, January 7, 2023.
The crash occurred around 6:48 p.m. Saturday, on Highway 198 in Kings County, westbound east of 13th Avenue, involving a vehicle and a pedestrian.
On arrival at the scene, CHP officers discovered a 55-year-old Visalia woman's sedan had struck a 49-year-old woman as she walked into traffic lanes on the freeway.
Authorities claim that two additional vehicles also struck the woman, who was declared dead at the scene.
According to CHP officials, the drivers of all three vehicles accused of striking the pedestrian stopped and cooperated with the investigation.
The presence of the pedestrian on the freeway may have been influenced by alcohol, according to the officers. There were no traffic arrests.
T. Palmer, the CHP's public information officer for the Hanford area, can be reached at (559) 582-0231.

Fatal Pedestrian Accident Statistics
Injuries and fatalities from traffic have increased in recent years in the United States. Additionally, the number of pedestrian fatalities has been rising steadily.
According to the Governors Highway Safety Association (GHSA), between 2007 and 2016, pedestrian fatalities increased by 27%, while traffic-related fatalities decreased by 14%.
5,977 Americans died in traffic accidents in 2016. Later that year, it was calculated that 88 people died every minute. The following year, at least 137,000 patients sought medical attention in emergency rooms due to pedestrian injuries.
Research indicates that California has the highest pedestrian fatalities and serious injuries rate. In 2012, there were 893 pedestrian fatalities and more than 14,000 injuries in the state.
A pedestrian is almost always seriously injured or killed when struck by a car. The situation worsens when drivers fail to stop for pedestrians or stop abruptly. The best action is to speak with an experienced attorney if you file a lawsuit.
Pedestrian Accident Lawyers in Hanford
Even when a crosswalk is not required, a pedestrian should always prioritize. In a collision, the driver may be questioned if there is reason to suspect negligent activity.
The surviving family members of the deceased may bring a "wrongful death lawsuit" to seek compensation. Payment for physical pain and suffering and compensation for financial losses brought on by death are examples of damages.
Our Hanford's skilled pedestrian accident attorneys can offer you the support you need throughout these sometimes-overwhelming legal battles. According to our track record, the company has already recovered more than $400 million.
In court, we consistently prioritize your interests. In the event of a pedestrian accident in Hanford, California, we are ready to stand up for your rights and will do whatever it takes to secure the settlement you are due.
To arrange a free consultation with one of our attorneys immediately, call (888) 488-1391 or click the "Do I Have a Case?" link on our website.