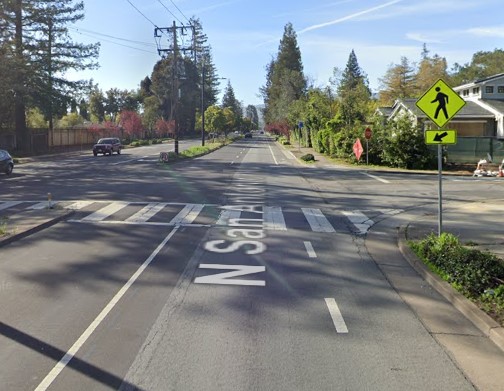 A 42-year-old bicyclist was in critical condition following a hit-and-run collision in Los Altos on Saturday evening, January 07, 2023.
According to the Los Altos Police Department, the crash occurred at 11:33 p.m. near the N. San Antonio Road and Yerba Buena Avenue intersection.
The car, most likely silver or something similar in color, was traveling north when it struck the bicyclist who was also traveling in the same direction.
The cyclist was taken to the hospital for sustaining major injuries. He is now in severe but stable condition.
After the crash, the driver did not stop and kept heading north, away from the scene.
The authorities are requesting possible witnesses to contact them for their search and investigation.

Hit-and-Run Accident Statistics
Failing to stop at the scene of an accident you caused while driving is against the law in the United States. The motorist may face serious charges and a lengthy jail term in the event of an arrest.
Every day in the United States, at least one motorist causes an accident and then disappears without providing any information or assistance to the victims. About 2,000 people have died in such events since 2006. More than 60% of fatalities were predicted to be pedestrians.
Nearly 20% of the time when a car hits and kills a pedestrian or another driver, the driver continues on without stopping to help. Intoxicated drivers, drivers with license problems, and other fleeing motorists have left their vehicles on the side of the road or sped off to avoid authorities.
More than half of the fatalities in California were caused by hit-and-run accidents between 2009 and 2016. It is estimated that California is responsible for about 3,562 deaths in the whole country.
Hit-and-Run Accident Victim Lawyers in Santa Clara County
Accident victims in California have the option of bringing a civil claim against the at-fault party's insurer in addition to a criminal complaint.
If you or a loved one has been seriously hurt or killed in an accident, you may be able to file a claim for personal injury or wrongful death and receive financial compensation.
If you or a loved one has been wounded or murdered due to someone else's negligence, please call one of our experienced lawyers to discuss your case and assess your options.
Our trusted hit-and-run accident victim lawyers in Santa Clara County have extensive experience and accolades advocating for accident victims. Our clients have been awarded compensation totaling $400 million.
Call (888) 488-1391 now or click the "Do I Have a Case?" on our website to set up a free consultation with one of our attorneys.