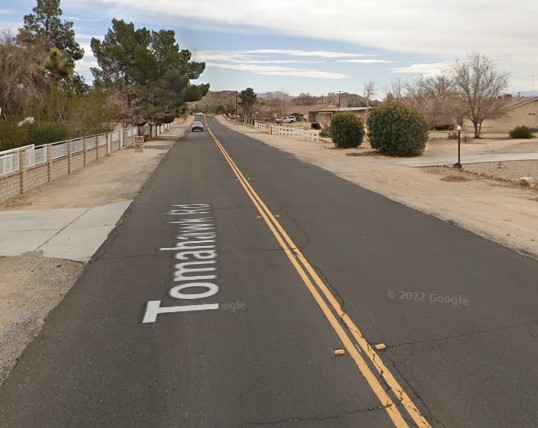 A multi-vehicle crash injured five individuals in Apple Valley on Sunday night, January 8, 2023.
The collision occurred around 5:56 p.m. on Tomahawk Road between Pamlico and Choco.
According to authorities, a silver 2013 Dodge Grand Caravan, an earlier model white Toyota Tacoma, and a dark-colored 2000 Ford F250 were involved in the crash.
They discovered two people with severe injuries and three others with minor to moderate injuries.
The first critically injured victim was an occupant of an overturned F250 that flipped over during the crash, causing extensive damage to the truck and severe injuries to the occupant.
The F250 passenger was flown by helicopter to Loma Linda University Medical Center after being rushed to St. Mary's Medical Center in Apple Valley.
The second critically injured victim was a 60-year-old female who was sent to St. Mary's Medical Center with unknown injuries.
The woman was first described as stable, but firefighters later changed her status to critical.
The minivan and white pick truck had front-end damage and blocked Tomahawk Road's westbound lane, causing traffic to stop in both directions.
The cause of the crash is being investigated.
There were no other details available at the time.

Multi-Vehicle Crash Statistics
According to the National Highway Traffic Safety Administration, 36,560 persons were injured, and 33,654 perished in car accidents in 2017.
One in every four traffic incidents involving numerous vehicles is fatal, and 13,000 people are killed in similar circumstances each year. California has the highest rate of fatal car accidents in the country.
Multi-vehicle crashes are more likely to result in property damage and severe death injuries than other types of traffic accidents. A person's lack of situational awareness or control may impact those around them. These crashes happen the majority of the time.
Keep an eye on the road, monitor your speed, and pay attention to your surroundings to avoid getting involved in these catastrophic accidents.
Trusted Car Accident Lawyers in Apple Valley
In California, the relatives of individuals killed in car accidents have the same rights as those injured in any other type of accident.
To find out how to obtain the maximum compensation from your insurance company, you should speak to a personal injury or wrongful death lawyer from our reputed firm about filing a lawsuit.
During a free consultation, our attorneys will analyze your case and provide you with tailored advice that may boost your chances of winning and the amount of compensation you receive.
Our Solano auto accident lawyers have a great deal of experience successfully representing accident victims in court. We have already received compensation worth $400 million for our clients in California.
To schedule a free consultation with one of our attorneys, call (888) 488-1391 or visit our website and select the "Do I Have a Case?" link.