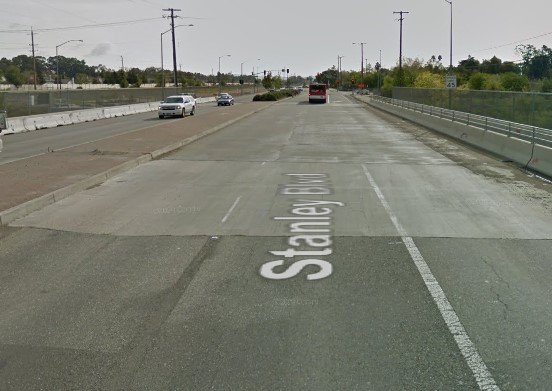 A 26-year-old man was seriously injured after being struck by a car as he exited his in Livermore on Monday morning, January 09, 2023.
According to the California Highway Patrol, the crash occurred around 1:40 a.m. along Stanley Boulevard, roughly a mile west of Isabel Avenue.
The Livermore resident drove east on Stanley in a Toyota Camry when his vehicle spun out in the road's westbound lanes due to intense rain. He got out of the car when it stopped and stood close to the door of the driver's side.
Several minutes later, the driver's side of the car was struck by a 20-year-old from Pleasanton traveling west on Stanley, seriously injuring the Camry driver.
As the investigation by CHP officials continues, there is no indication that alcohol played a role in the collision.
Authorities advise against driving in intense rains and, if necessary, driving slowly.

Car Accident Statistics
The National Safety Council's estimation that in 2020 road fatalities would rise due to risky driving habits like speeding, drunk driving, and the incorrect usage of safety devices like seatbelts would prove accurate.
The 8.3% rise in traffic-related fatalities is very troubling, given the general declining trend in fatalities over the prior three years. The number of people killed in automobile accidents rose from 39,107 in 2020 to 42,338 in 2021.
By the year 2020, the global population has increased by 0.4% from its 2010 level. Nonetheless, there was a discernible decrease from the norm in terms of both the number of people and the number of vehicles on the road, as well as the number of miles driven. There is a clear correlation between the rise in deaths, which has increased by 21.7%, and the rise in the number of new car registrations (8.5%).
The number of people visiting an emergency room due to injuries sustained in a motor vehicle crash was expected to reach around 4.81 million in 2020. Approximately $473.2 billion was expected to be spent on medical care for those injured in automobile accidents as a result of accidents.
Car Accident Lawyers in Alameda County
Passengers who are injured in car accidents in California have the right to sue the driver and anyone else they feel is responsible for their injuries. Please speak with a member of our legal team as soon as possible if you have any questions or need assistance with submitting an insurance claim.
We are available to assist you if you have questions regarding a personal injury case or wrongful death claim that you wish to discuss with an attorney.
Our trusted car accident lawyers in Alameda County have the recognition and vast experience advocating for accident victims. Our clients have been awarded compensation totaling $400 million.
Contact (888) 488-1391 or click the "Do I Have a Case?" on our website to schedule a free consultation with one of our lawyers.