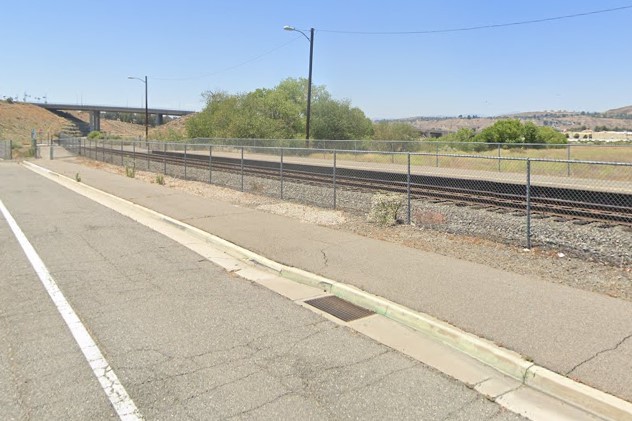 A Union Pacific freight train fatally struck a pedestrian in Santa Clarita on Monday afternoon, January 9, 2023.
Reports confirmed that the deadly crash transpired around 3:00 p.m. in the 19200 block of Via Princessa in Canyon Country.
According to officials, only one person appeared to be involved in the collision.
Fire authorities said that they received a call at 3:08 p.m. and arrived on the scene by 3:14 p.m., but they departed the area after about 15 minutes without giving medical treatment.
The train remained on the rails for approximately an hour after the crash. At the same time, law enforcement investigated, leading Metrolink to provide Uber tickets to Antelope Valley line commuters who use the same track.
After the Santa Clarita Valley Sheriff's Station, a section of the train lines was closed.
Police officials cordoned off an area outside the Via Princessa Metrolink station's entrance Monday afternoon while the station's door was shut off to prevent riders from approaching the station.
At 4:30 p.m., deputies interviewed witnesses to ascertain the nature of the encounter and whether the death was a suicide.
Further details on the collision are ongoing.

Fatal Train Collision Statistics
Every two hours, trains collide with people or automobiles, according to the National Transportation Safety Board. Every year, over a thousand people are killed in train accidents. It causes approximately 2,300 injuries and 600 deaths.
According to the National Transportation Safety Board, pedestrians are more likely to die in train accidents than in automobile accidents. Unsafe crossings, outmoded or missing safety equipment and a lack of automobile warning systems cause 50% of all fatal train accidents.
Over 7,200 people have died in train accidents in the United States since 1997. Trains colliding with pedestrians have lately eclipsed all other causes of mortality on American railroads as the primary cause of fatalities.
The train is the most efficient mode of transportation. Many factors influence employee and passenger safety, including conductor skill and frequency of maintenance. They are dangerous because they may be negligent or take unsafe shortcuts.
Derailments, worn-out tracks, disregard for safety requirements, low security, and other forms of irresponsibility all contribute to train accidents.
Trusted Train Accident Lawyers in Santa Clarita
Nearly everyone has used the subway or other public transportation at some point. Accidents can still occur, even though this is an efficient and relatively safe method of transportation.
Train accidents pose a higher risk of injury or death despite their decreased danger than other modes of transportation. The train accident victim may be entitled to financial compensation, including reimbursement for medical expenses, lost wages, and mental anguish.
You can rely on our legal team to negotiate with the insurance company to ensure that your accident-related medical expenditures, lost earnings, and pain and suffering are adequately reimbursed.
Our award-winning train accident attorneys in Santa Clarita are committed to defending the rights of those wounded in a train collision. You should be able to concentrate on getting better while we try to obtain the compensation you are due.
Call us at (888) 488-1391 or through our website's "Do I Have A Case?" form on our website to contact us and schedule your initial consultation with one of our attorneys.