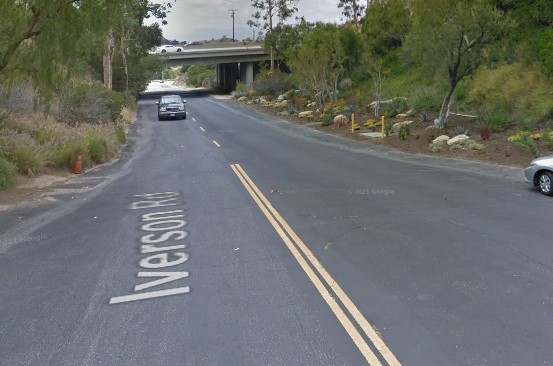 Two injured people were extricated after driving their car into a sinkhole and getting trapped there as another car landed on top of them in Chatsworth, Los Angeles, on Monday evening, January 09, 2023.
According to the Los Angeles Fire Department, the crash involving two vehicles and four people occurred around 7:20 p.m. on Iverson Road at Zaltana Street.
The first car drove into the sinkhole that opened up on the roadway. Its two occupants were trapped when a pickup truck also went into it and on top of them.
Two people from the truck were reportedly unharmed after getting out on their own. LAFD crews extricated the two other people in the first car after stabilizing the vehicle and using a ladder to lower a firefighter down. They sustained minor wounds.
The road is totally damaged. The sinkhole, which grew wider overnight as more water flowed down from the street and filled it, completely spanned Iverson Road's southbound lane, making it impassable to traffic and unusable for rescue vehicles.

Car Accident Statistics
Although the USGS reports that 20% of the U.S. land is at risk from sinkholes, with Florida, Texas, Alabama, and Missouri, among others, being the most damaged by them, fatalities are highly uncommon. They form when the ground cave in after the water flowing below the surface erodes rocks away, causing the surface to collapse. They can be especially dangerous when they appear on the roadways.
The National Safety Council's prediction that risky driving behaviors like speeding, drunk driving, and the improper use of safety devices like seatbelts would increase traffic fatalities in 2020 was spot on.
Given the downward trend in fatalities over the prior three years, the recent 8.3% spike in traffic-related fatalities is alarming. Vehicle-related fatalities reached 42,338 in 2020, up from 39,107 the previous year.
A 0.4 percentage point increase was expected by 2020, as the population has grown since 2010. The population, vehicle count, and total vehicle miles traveled were all still significantly lower than average. The 8.5% increase in new vehicle registrations, the 79% increase in fatalities per 100,000,000 miles driven, and the 21.7% increase in the death rate is largely attributable to human error and negligence.
In 2020, car accidents sent over 4.81 million people to the emergency room. It was estimated that $473.2 billion were spent on medical care for people hurt in cars.
Car Accident Lawyers in Los Angeles
Passengers injured in car accidents in California can file a claim for damages against the negligent driver, or any other party they believe is at fault. If you need help filing an insurance claim or have questions about doing so, please contact a member of our legal team as soon as possible.
Do not hesitate to contact our reputed law firm if you need the assistance of an experienced lawyer regarding your personal injury or wrongful death case following any traffic-related accidents.
Our trusted car accident lawyers in Los Angeles have the recognition and vast experience advocating for accident victims. Our clients have been awarded compensation totaling $400 million.
Contact (888) 488-1391 or click the "Do I Have a Case?" on our website to schedule a free consultation with one of our lawyers.