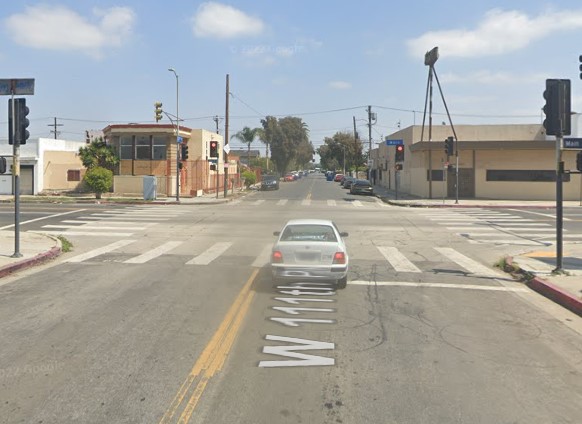 A woman and three minors were hospitalized in grave condition following a two-vehicle hit-and-run collision in South Los Angeles on Monday morning, January 09, 2023.
According to the Los Angeles Police Department, the crash occurred shortly before 8:00 a.m. at the Main Street and 111th Place intersection in the Broadway-Manchester area.
Two cars were involved, a silver SUV and a silver Mercedes sedan, sending both into the southbound lanes. The sedan was fully enveloped in flames, which the Los Angeles Fire Department swiftly put out. At least one car collided with a building.
The four occupants in the SUV were extricated. The 35-year-old female driver and mother of the pediatric patients: a 16-year-old girl in the passenger seat, a 13-year-old boy, and an 18-month-old boy, both in the rear seats.
The two kids in the back suffered cardiac arrest as a result of major injuries. Both of them were taken to a nearby hospital in critical condition after paramedics performed CPR on them at the scene. The mother and the girl were also taken to the hospital in grave states after sustaining major wounds.
Responders arrived at the scene and found the sedan empty, believing there was just one occupant, the driver, whom the witnesses claimed was running from the area with a limp.
The LAPD was looking into the cause of the collision, including whether speeding, alcohol, or drugs played a role.

Hit-and-Run Accident Statistics
Failing to stop at the scene of an accident you caused while driving is a serious offense in the United States. The driver may face harsh charges and a lengthy prison term in the event of an arrest.
In the United States, at least one motorist causes an accident and flees the scene daily. More than 2,000 individuals have been killed due to these kinds of accidents since 2006. Over 60% of fatalities were predicted to be pedestrians.
About one in five times when a car hits and kills a pedestrian or another driver, the offending driver never stops to help. People have left their cars on the side of the road or sped off to avoid getting caught because they were drunk, had license problems, or were trying to evade police.
Between 2009 and 2016, hit-and-run accidents accounted for over half of all fatalities in California. About 3,562 deaths in the United States can be traced back to California.
Hit-and-Run Accident Victim Lawyers in Los Angeles
In the aftermath of an accident in California, victims can file civil claims against the at-fault party's insurer in addition to criminal complaints.
If an accident has left you badly injured or caused the death of a loved one, you may be entitled to monetary compensation through a physical injury or wrongful death case.
Please contact one of our knowledgeable attorneys to discuss your case and learn more about your legal options if you or a loved one has been harmed or wrongly killed.
Our trusted hit-and-run accident lawyers in Los Angeles have extensive experience and accolades advocating for accident victims. Our clients have been awarded compensation totaling $400 million.
Call (888) 488-1391 now or click the "Do I Have a Case?" on our website to set up a free consultation with one of our attorneys.