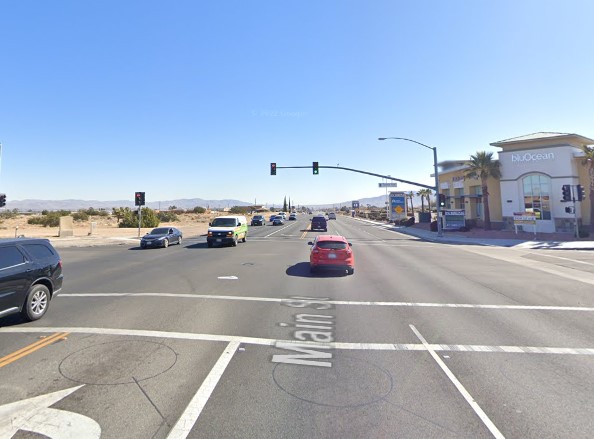 Authorities reported that a pedestrian was hospitalized after being struck by an SUV while crossing a street in Hesperia on Monday evening, January 09, 2023.
According to the Hesperia Police Department, the crash occurred shortly after 6:00 p.m. at the Main Street and Topaz Avenue intersection.
Responders from the Hesperia PD and San Bernardino County Fire arrived at the scene and found a maroon Toyota SUV involved in the pedestrian crash.
The pedestrian was taken to a nearby hospital after sustaining injuries. The victim, reportedly crossing Main Street when the crash happened, is expected to be okay.
The SUV driver stayed at the crash site and cooperated with the police in their investigation.
Main Street's westbound lanes were shut down near Topaz Avenue for the investigation by the Hesperia police before being reopened.

Pedestrian Accident Statistics
According to data compiled by the Governors Highway Safety Association, the number of highway fatalities fell by 14% between 2007 and 2016. However, the number of pedestrian fatalities increased by 27% during the same time period.
The preceding suggests that, in the not-too-distant future, pedestrians in the United States will increasingly face an unprecedented danger of severe injury or death as a result of automobile crashes.
In 2012, automobile accidents claimed 809 lives and wounded 14000 others. This indicates that both fatal and nonfatal pedestrian accidents are more common in California than in any other state in the country.
Official statistics show that there were roughly 6,000 fatalities due to automobile accidents in the USA in 2016. By the end of that year, 88 deaths were estimated by experts to happen every minute. About 137,000 U.S. citizens were seriously injured and hospitalized the following year.
Pedestrian Accident Lawyers in Hesperia
In California, pedestrians who are injured or whose loved ones are killed in an accident enjoy the same legal protections as those victimized in other types of traffic-related accidents through a personal injury or wrongful death lawsuit.
Suppose you or someone you love was seriously hurt or killed because of someone else's carelessness. In that case, the law provides a system that will ensure you receive the monetary compensation you deserve. Our highly acclaimed legal team is here to help you file a claim with the insurance provider following such accidents.
Our trusted pedestrian accident lawyers in Hesperia have extensive experience and accolades advocating for accident victims. Our clients have been awarded compensation totaling $400 million.
Call (888) 488-1391 now or click the "Do I Have a Case?" on our website to set up a free consultation with one of our attorneys.