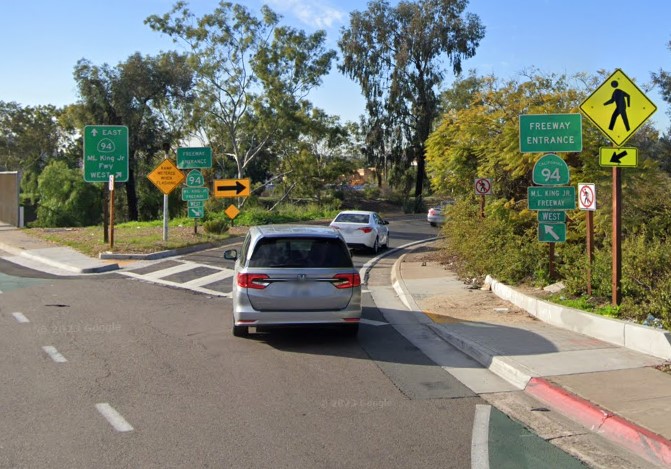 A passenger and a driver were hospitalized after a suspected DUI crash in San Diego early Monday morning, January 9, 2023.
According to reports, the collision transpired around 1:46 a.m. on the SR-94 off-ramp.
Authorities reported that a BMW going westbound to Euclid Avenue ran off the road and over an embankment.
The vehicle collided with a tree and was split in half due to the crash.
A passenger who fled returned to the scene and was brought to the hospital for evaluation.
Meanwhile, responders inspected the driver and arrested him on suspicion of DUI. He was brought to the hospital for medical attention.
Further investigations on the crash are underway.

DUI Crash Statistics
Every day, around 32 people are killed in drunk-driving accidents in the United States, or one every 45 minutes, according to the National Highway Traffic Safety Administration.
In 2020, 11,654 individuals were killed in drunk driving-related car accidents, a 14% increase over 2019.
According to a California DUI Management Information System study, alcohol-related collision deaths climbed by 5.8% in 2017 after increasing by 6.9% in 2016.
Drunk driving puts drivers, other road users, and the environment at peril. It is estimated that 2 billion gallons of fuel are lost yearly due to drunk drivers' careless driving.
Given these data, it is evident that everyone should keep a close eye on their drinking habits and never drive after exceeding the recommended alcohol limit.
DUI Accident Lawyers for Victims in San Diego
You may feel various emotions following a DUI accident that leaves you injured. You may experience discomfort, anxiety, or fear from time to time. You might also want to know what happens next.
The negligent driver must be held liable for a victim's damages. Significant injuries can lead to financial hardship due to medical bills and lost wages.
Surviving a drunk driving crash is extremely unlikely. You would be protected by California law if you were to be involved in a DUI collision.
Our DUI accident lawyers for victims in San Diego are committed to seeking justice for victims in these collisions. Drunk drivers should face financial and criminal consequences if they risk the lives of others.
We seek the highest possible compensation for our clients, helping them afford life-saving medical care and provide for their families. Please call (888) 488-1391 or fill out our "Do I Have A Case?" form to speak with one of our DUI accident attorneys.