An unidentified 66-year-old man was killed after a deadly motorcycle crash in Sonora on late Monday afternoon, January 10, 2022.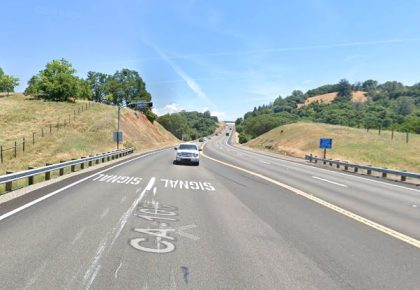 The fatal crash transpired at approximately 4:30 p.m. on Mono Way near the onramp to the Highway 108 bypass in Sonora.
The 66-year-old man was traveling westbound on Mono Way on his motorcycle and made a left turn across the traffic lane toward Highway 108.
Meanwhile, an eastbound Jeep traveling through the intersection crashed into the motorcycle for unclear reasons.
Unfortunately, the motorcycle rider was killed in the crash. Meanwhile, the Jeep driver sustained minor injuries in the mishap.
Authorities suspect that one of the involved drivers may have failed to stop at a red light before the crash. It's unknown whether drugs or alcohol were factors in the mishap.
Local authorities are further investigating the case.

Fatal Motorcycle Crash Statistics
According to the United States Department of Transportation's Fatality Analysis Reporting System (FARS), a total of 5,014 motorcyclists died in crashes in 2019. Motorcycle deaths had decreased since the early 1980s, but they began to climb in 1998 and remained so until 2008.
According to the National Highway Traffic Safety Administration (NHTSA), motorcycle riders are 16 times more likely to be injured and 35 times more likely to be killed in a crash than car passengers.
Almost 70% of motorcycle accidents occur at junctions due to vehicles failing to detect the motorcycle. Due to the smaller size of motorcycles, other vehicles cannot see the motorcycle clearly, causing traffic crashes.
California has the most roads featured in the 'Top 100 Motorcycle Roads' section of motorcycleroads.com, an online guide to motorcycle roads, tours, and events. It also boasts the most motorcycles registered in the United States. The state has about 800,000 motorcycles registered.
In 2017, there were 16,505 motorcycle accidents in California, with 15,527 people injured and 541 people killed.
Fatal Motorcycle Accident Lawyers for Victims in Tuolumne County
It may take some time to recover after a fatal motorcycle accident. Some victims sustain serious injuries that require weeks or even months to heal. Unfortunately, not everyone who is involved in a motorcycle crash survives.
The victim's family may be subjected to great stress and suffering as they continue to grieve the loss of a loved one in a deadly motorbike accident.
During this painful time, the expert Tuolumne County motorcycle crash lawyers from Arash Law can act as dependable legal counsel for the victim's family. We have the resources and the experienced that can help you win your claim.
Our objective is to preserve the rights of crash victims and aid them in negotiating with giant insurance firms that do not have their best interests in mind. You have nothing to lose by getting in touch with us.
We provide free consultations with no obligation to hire us. We also work on a contingency-fee-basis, which means you don't have to pay anything unless we get you compensation. Contact us online or by phone at (888) 488-1391.