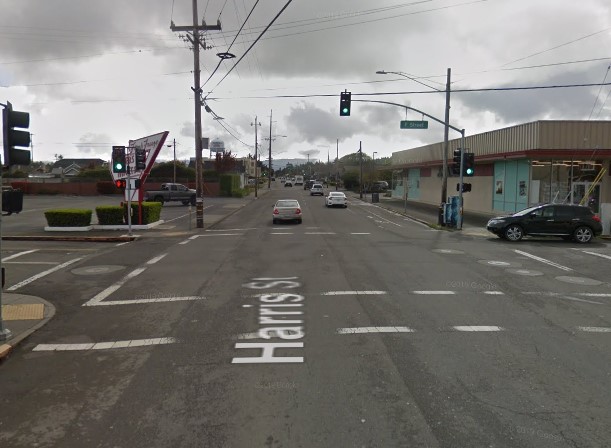 A multi-vehicle collision involving a deputy resulted in possible injuries in Eureka, Humboldt County, on Tuesday afternoon, January 10, 2023.
According to the Eureka Police Department, the three-vehicle crash caused by a DUI driver occurred around 2:37 p.m. at the F Street and Harris Street intersection.
A deputy of the Humboldt County Sheriff's Office heading south on F Street in a patrol car spun and hit a vehicle after getting struck by a separate car driven by 37-year-old Levi M. from Eureka, who reportedly ran a red light while drunk and traveling east on Harris.
Responders from the Humboldt Bay Fire and City Ambulance, along with Eureka police, arrived at the scene and reported complaints of pain from the people involved. The extent of the injuries and the number of victims remain under investigation.
The crash blocked the #1 southbound lane of F Street, causing congestion in the area.
The collision is being investigated by the Eureka Police Department. The at-fault driver was detained for multiple charges, including drunk driving and child endangerment.

Drunk Driving Accident Statistics
According to a report by the National Highway Traffic Safety Administration, more than 10,000 people die each year as a result of drunk driving. Twenty percent of all fatal car accidents include drug usage.
Roughly 2,000 people lose their lives and 30,000 are injured every year in California due to automobile accidents. Alcohol-impaired motorists contribute significantly. For those convicted of DUI, the costs might be substantial.
Intoxicated drivers pose a threat to other travelers because they are more likely to engage in risky behaviors while behind the wheel, including driving recklessly, responding slowly, and making poor decisions. Everyone should put their own safety first and never knowingly put themselves in harm's way.
When injured in an accident caused by an intoxicated driver, victims shouldn't feel bad about seeking medical assistance. Before making any final decisions or speaking with investigators, you should seek legal counsel. If you or a loved one has been injured in an accident and drunk driving is suspected, you should consult an attorney with relevant experience as soon as possible.
Drunk Driving Accident Lawyers for Victims in Eureka
Victims of accidents caused by drunk drivers in California have the same rights as other accident victims in the state when it comes to seeking compensation for injuries or wrongful death.
Contact us to arrange a meeting with one of our experienced lawyers so that you can discuss your case and get guidance on how to negotiate a reasonable settlement with the insurance company.
Our trusted drunk driving accident victim lawyers in Eureka have extensive experience and accolades advocating for accident victims. Our clients have been awarded compensation totaling $400 million.
Call (888) 488-1391 now or click the "Do I Have a Case?" on our website to set up a free consultation with one of our attorneys.