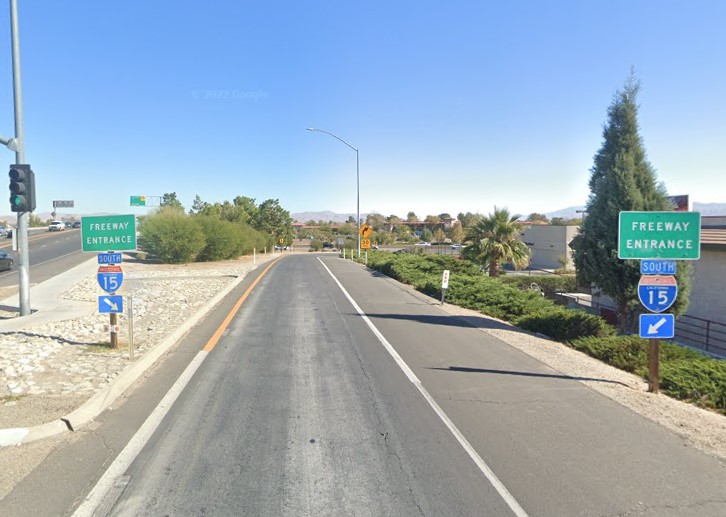 A pedestrian was hospitalized with critical injuries after being struck by a vehicle in Victorville on Tuesday afternoon, January 10, 2023.
According to the California Highway Patrol, the crash occurred around 12:38 p.m. in the southbound lanes of the 15 Freeway onramp on Palmdale Road's southbound side.
The responders from CHP, the Victorville Fire Department, and AMR arrived at the scene and found a person with serious injuries after getting hit by a car.
The victim, whose identity was not released, was airlifted via helicopter to a trauma center after being rushed to Victor Valley Global Medical Center. Details on their current condition were unavailable.
The male driver of the car involved, a black Nissan Altima with its back window damaged and front windshield was broken out, stayed on the site and assisted the investigators. He was reportedly unharmed.
The north side of Palmdale Road onramp to the southbound 15 freeway was shut down for guardrail maintenance while the CHP's Victorville office is looking into the collision.

Pedestrian Accident Statistics
The number of deaths from traffic accidents decreased by 14 percent between 2007 and 2016, according to data released by the Governors Highway Safety Association. Despite this decrease, the number of pedestrian deaths rose by 27% over that time.
The preceding data show that pedestrians in the United States face an unprecedented risk of suffering a minor injury, a serious one, or possibly death as a result of such events in the coming years.
There were 809 fatalities and 14,000 injuries attributed to car accidents in 2012. These statistics suggest that California has a higher rate of pedestrian accidents overall, not only those that result in fatalities.
Official estimates place the number of individuals killed in automobile accidents in the United States in 2016 at close to 6,000. There were around 88 deaths reported per minute towards the conclusion of that year. The next year, almost 137,000 Americans were critically hurt and required hospitalization.
Pedestrian Accident Lawyers in Victorville
In California, pedestrians who suffer injuries or lose a loved one in a traffic collision have the same legal rights as those of other motorists involved in other types of vehicular collisions.
Imagine that someone else's carelessness caused you or a loved one to suffer serious harm or even death. There is a legal procedure in place to ensure that you get the money you're owed in such a situation. After an accident, you may rely on our recognized legal team to assist you in filing a claim with your insurance provider.
Our trusted pedestrian accident lawyers in Victorville have extensive experience and accolades advocating for accident victims. Our clients have been awarded compensation totaling $400 million.
Call (888) 488-1391 now or click the "Do I Have a Case?" on our website to set up a free consultation with one of our attorneys.