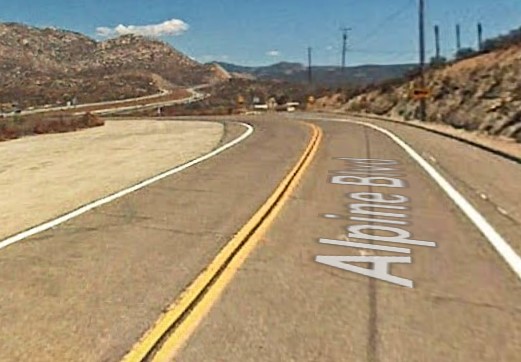 Several people were injured following a two-vehicle collision in Alpine, San Diego County, on Tuesday evening, January 10, 2023.
According to the California Highway Patrol, the crash occurred around 6:30 p.m. on Alpine Boulevard, east of West Willows Road.
A 1987 Suzuki Samurai driven by a 40-year-old man from Santee was heading west on Alpine Boulevard when it entered the eastbound lane in front of a 2003 Honda Accord driven by a 70-year-old Descanso woman.
The collision caused the Suzuki to roll onto its right side and block the road's westbound lane.
The Suzuki driver was taken to Sharp Memorial Hospital for sustaining major injuries, while the Honda's occupants sustained moderate wounds and were also taken to the same hospital. It is unclear how many people were involved.
As the investigation continues, it does not appear that drugs or alcohol played a role in the crash.

Two-Vehicle Accident Statistics
Every minute, one American is killed in a car accident, and every day, ten more people are injured. There are more than two million deaths among children and young adults under the age of 24 annually due to these avoidable causes of mortality, and at least ten million more are wounded.
Experts and government officials agree that road accidents will account for roughly 10,000 deaths in California by the year 2050. Also, future projections indicate that these figures will increase.
Since 2012, the number of people killed in car crashes has risen by 23.5%. In 2017, 3,898 people lost their lives and 279,223 were injured as a result of car accidents. There were nine fatalities per every one hundred thousand persons who used public transportation that year.
On the state's dangerous roads, almost all Californian motorists have had to deal with a harrowing near miss at some point in their lives. By being a cautious driver and ensuring that your vehicle receives routine maintenance, you will be reducing your chances of being involved in an auto accident.
Car Accident Lawyers in San Diego County
Auto accident victims in California have the right to sue at-fault drivers in civil court for compensation for injuries and damages. Contact an attorney at our law firm without delay if you're interested in discussing the possibility of resolving your insurance claim.
If you or a loved one has been injured or killed and you would like to talk to one of our attorneys about filing a personal injury or wrongful death claim, please don't hesitate to call us for a free consultation.
Our trusted car accident lawyers in San Diego County have the recognition and vast experience advocating for accident victims. Our clients have been awarded compensation totaling $400 million.
Contact (888) 488-1391 or click the "Do I Have a Case?" on our website to schedule a free consultation with one of our lawyers.