At least one person was injured after a major multi-vehicle traffic collision in Winnetka on Wednesday afternoon, January 12, 2022.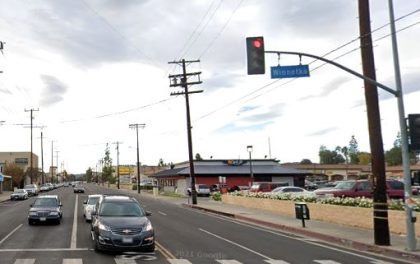 The accident happened in the 20500 block of Saticoy Street in Winnetka at approximately 2:10 p.m.
Four vehicles collided on the roadway for unclear reasons. How the accident occurred and why it happened have not been established.
One of the vehicles then crashed into a pole following the collision. A pregnant woman sustained moderate injuries in the crash and was rushed to an area hospital for treatment.
Additional information about the accident is limited at the moment. The identities of the involved parties have not been disclosed.
Local authorities are further investigating the cause of the crash.

Multi-Vehicle Collision statistics
The thriving state of California is a hotbed for car accidents. According to the National Highway Traffic Safety Administration, there were 3,304 fatal car accidents in California in 2017. Driving anywhere in California is dangerous. The vast majority of collisions, however, are avoidable. Human mistake is responsible for 94 percent of all accidents.
The bustling city of Los Angeles is a hotbed for potential car accidents. Taking the 405, 101, 10, and 5 on your commute is sometimes bumper-to-bumper, with plenty of potential for rear-end collisions. In 2016, the number of traffic accidents in Los Angeles increased by nearly 20% to 55,350.
Car accidents can have life-changing and tragic consequences. Because cars are so common in our lives, drivers frequently overlook how hazardous they can become and how severe, even fatal, car accidents can occur.
In this case, a tragic multi-vehicle incident happened. This type of accident frequently occurs when three or more autos are involved. They frequently result from a "chain-reaction" incident, in which one vehicle collides with another, potentially forcing it to collide with other vehicles on the road.
According to a recent National Highway Traffic Safety Administration (NHTSA) study, more than 13,000 people were killed in multi-vehicle collisions involving passenger automobiles, accounting for more than 40% of all motor vehicle accidents each year.
Los Angeles Car Accident Lawyers for Victims
When several defendants and various parties are involved, everyone can try to point the finger at someone else. Finger-pointing might leave a victim of an injury without someone to compensate them for their losses. Because of the possibility of such complications, it is critical to retain an injury lawyer to safeguard your legal rights following a multiple automobile pile-up.
Self-representation puts you at risk of making mistakes and losing your right to compensation. It isn't easy to negotiate with insurance claims adjusters, and the stakes might be enormous. Protect your rights and future by hiring an attorney to help you settle your lawsuit or take it to trial if necessary.
Talking to one of our Los Angeles County car accident attorneys from Arash Law before talking to an insurance claims adjuster can provide you with all the information and confidence you need during this difficult time. Discussing with an attorney is often the first step in getting your medical bills paid. Your accident might have left you with significant hospital expenses, ambulance fees, surgeries, medical equipment, disability, rehabilitation, or live-in care. As the bills stack up, you may wonder if you will get paid for your damages.
An experienced Los Angeles attorney can help move your case together with insurance companies or the judicial system, leading to quicker payment for your invoices. Call Arash Law today at (888) 488-1391 or contact us online to schedule your free no-obligation fatal car accident case review.