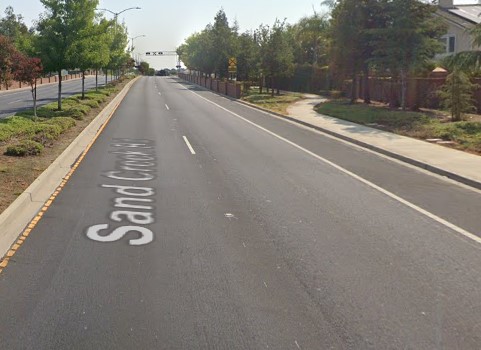 Two people were reportedly involved, one was hospitalized, in a single-vehicle crash in Brentwood, Contra Costa County, on Thursday afternoon, January 12, 2023.
According to the Brentwood Police Department, the crash between a car and a brick wall occurred around 4:00 p.m. on Sand Creek Road between Minnesota Avenue and O'Hara Avenue.
Responders from the Contra Costa County Fire arrived at the scene to find a vehicle heavily damaged after smashing into a brick wall. One person was trapped inside and had to be extricated for roughly 40 minutes.
Brentwood police said there were two victims. The trapped passenger was airlifted via medical helicopter to a nearby trauma center in unknown condition after sustaining major injuries.
The circumstances leading to the vehicle leaving the roadway and crashing into a brick wall remain under investigation. No other information was released by the authorities.
The solo car crash shut down the traffic on the southbound Sand creek. It was later reopened at 6:40 p.m. the same day.

Reckless Accident Statistics
Unfocused drivers contribute to collisions, road rage, and the high number of fatal and injury highway accidents that occur each year in the United States. The National Highway Traffic Safety Administration defines reckless driving as the deliberate disregard for the safety of others on the road in the face of overwhelming evidence that doing so increases the risk of an accident.
It's unclear how many fatal crashes can be pinned on reckless drivers. However, studies conducted by AAA and released in 2009 show that reckless driving was a factor in 56% of accidents that occurred between 2003 and 2007.
According to the Fatal Accident Reporting System kept by the National Highway Traffic Safety Administration, speeding is a major factor in vehicular deaths.
Drivers who put their own needs before the needs of others, such as those who are aggressive or reckless, represent a significant threat to public safety. Accidents caused by reckless driving must be dealt with immediately. The drivers' insurance will likely cover the costs of any damage they cause.
Reckless Accident Victim Lawyers in Contra Costa County
Most car crashes can be traced back to reckless behavior behind the wheel. If you were involved in an accident in California, your lawyer would try to establish that the driver's actions constituted "negligence per se" in order to win your case.
A person who has been hurt in a car crash can sue the at-fault driver for money if they can prove that the driver's negligence was to blame. In California, it is against the law to be careless behind the wheel or in any other aspect of life. If either of these things happens to you in California, it's in your best interest to consult with a skilled and committed reckless driving accident attorney.
Our award-winning reckless accident lawyers in Contra Costa County have years of experience and the expertise needed to advocate for accident victims. Our clients have been granted compensation totaling $400 million so far.
Contact (888) 488-1391 or click the "Do I Have a Case?" on our website to schedule a free consultation with one of our lawyers.