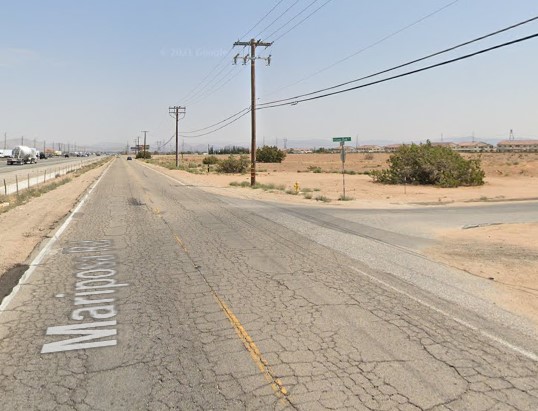 Two drivers were injured, one critically, following a two-vehicle collision in Hesperia on Thursday evening, January 12, 2023.
According to the Hesperia Police Department, the crash occurred around 6:35 p.m. in the area of Mariposa Road and Live Oak Street.
The San Bernardino County Firefighters arrived at the scene to find a white 2022 Chevrolet Silverado 1500 and a red 2011 Chevrolet Cruze, both with significant damage.
The cause of the collision remains under investigation, but the impact sent both cars through the northbound 15 freeway's perimeter fencing, ending up in a ditch.
Responders needed to use specialized tools to extricate the driver of the red sedan trapped in the wreckage. An ambulance transported him to Poplar Street and Bishop Avenue near Highway 395 before a helicopter airlifted him to a nearby trauma center.
The white truck driver also sustained injuries, the extent of which remains unknown, though the injured victim reportedly was in a stable state.
Mariposa Road was closed in both directions as Hesperia police further investigated the crash.

Two-Vehicle Accident Statistics
Every minute in the United States, a person is killed in a car accident, and every day, ten more people are injured in traffic mishaps. Annually, these avoidable causes of a mortality claim the lives of almost two million children and young adults under the age of 24, and they harm at least ten million more.
Experts and government officials predict that by the year 2050, approximately 10,000 people in California will lose their lives in traffic accidents. Unfortunately, projections show that these numbers will continue to rise.
Since 2012, there has been a 23.5-percent increase in fatalities attributable to cars. In 2017, car collisions caused 3,898 deaths and 279,223 injuries. Nine persons per one hundred thousand who used public transportation died that same year.
Almost every motorist in the state of California has had a hair-raising near miss on one of the state's notoriously dangerous routes. Driving defensively and keeping your automobile well-maintained might help reduce the chances of an accident.
Car Accident Lawyers in Hesperia
Injured victims of vehicle accidents in California can seek monetary damages from the negligent motorist through a civil lawsuit. If you're interested in discussing the possibility of settling your insurance claim, you should contact a lawyer at our office as soon as possible.
If you or a loved one has been injured or died in a car crash and you would want to explore filing a personal injury or wrongful death claim, please contact us now for a free consultation with one of our highly regarded attorneys.
Our trusted car accident lawyers in Hesperia have the recognition and vast experience needed to advocate for accident victims properly. Our clients have been awarded compensation totaling $400 million.
Contact (888) 488-1391 or click the "Do I Have a Case?" on our website to schedule a free consultation with one of our lawyers.