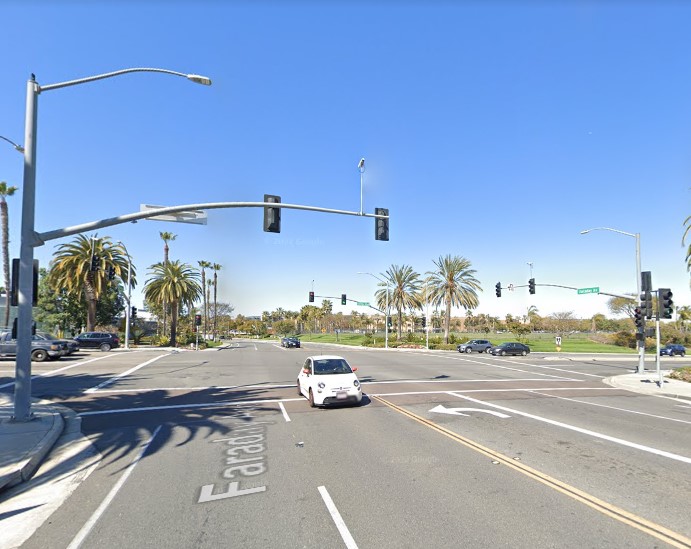 A 58-year-old male pedestrian was injured after being struck by a vehicle while pushing his bicycle in a crosswalk in Carlsbad, San Diego County, on Thursday evening, January 12, 2023.
According to the Carlsbad Police Department, the crash involving a pedestrian and a vehicle occurred shortly before 6:00 p.m. at the Faraday Avenue and College Boulevard intersection.
Responders arrived at the scene and located the victim injured but he was conscious and talking to them. He was reportedly pushing his bike across the street when he was struck by a Lexus sports utility vehicle.
The 59-year-old female driver stayed at the scene of the crash and cooperated with the authorities in their investigation. No details on their identifications were released.
The Faraday Avenue and College Boulevard intersection was shut down for many hours as the scene was investigated, but it is now open again.
Investigators do not think that drugs or alcohol contributed to the crash as they tried to determine what caused it.

Pedestrian Accident Statistics
According to data compiled by the Governors Highway Safety Association, the total number of people who died in traffic accidents decreased by 14 percent between 2007 and 2016. However, the number of pedestrians killed in these accidents rose by 27% throughout this time period.
The data shown above show that pedestrians in the United States are increasingly facing an unprecedented risk of being seriously hurt or killed in the event of a traffic incident in the coming years.
There were 809 fatalities and 14,000 injuries due to car accidents in 2012. Based on the numbers, it appears that pedestrian accidents in California are more common than in the rest of the United States, not just fatal ones.
Government authorities have estimated that about 6,000 people died in automobile accidents in the United States in 2016. Nearly 88 individuals were losing their lives each and every minute at the end of that year. Approximately 137,000 Americans were hospitalized after suffering major injuries during that year.
Pedestrian Accident Lawyers in San Diego County
When it comes to legal protections after an accident, pedestrians in California enjoy the same rights as motorists, bicyclists, and car passengers.
Contemplate what it would mean for you and your loved ones if someone else's carelessness caused serious harm to you or perhaps your loved one's death. There is a legal procedure in place to ensure that you receive compensation in this kind of situation. After an accident, you may rely on our reputable legal team to assist you in making a claim with your insurance provider.
Our trusted pedestrian accident lawyers in San Diego County have extensive experience and accolades advocating for accident victims. Our clients have been awarded compensation totaling $400 million.
Call (888) 488-1391 now or click the "Do I Have a Case?" on our website to set up a free consultation with one of our attorneys.