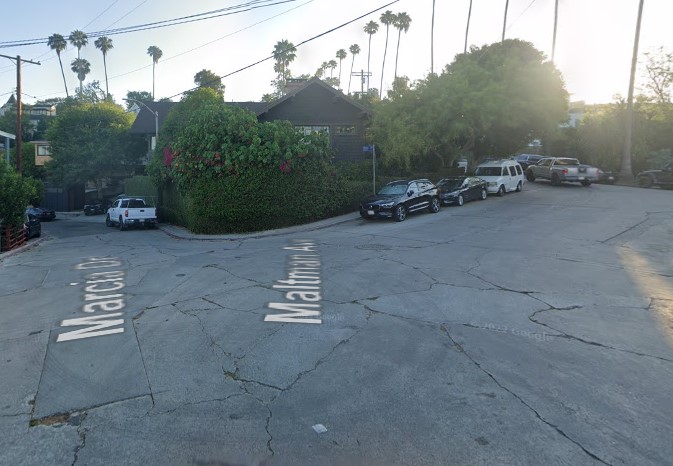 Two people were injured, one hospitalized, following a car crash caused by an alleged DUI driver in Los Angeles on Friday evening, January 13, 2023.
According to the Los Angeles Police Department dispatched to the area, the crash occurred shortly before 11:30 p.m. in the 1300 block of Maltman Avenue in the Silver Lake neighborhood.
Responders arrived at the scene and found a Tesla had crashed into a parked car in a house's driveway on Maltman Ave. They learned it crashed into multiple parked vehicles beforehand on Silver Lake Boulevard.
The driver, identified as Jamie K., 52, got out of the car that pushed the parked car into the house's garage in the collision. He then got back into his Tesla and tried to back out of the driveway after being accosted by witnesses.
With its door still open, the driver inflicted injuries on two people and collided with a vehicle traveling down the road. One of the injured victims was transported to the hospital in a critical but stable state, while the other complained of pain at the scene.
The suspect driver was taken into custody by police on charges of felony drunk driving.

DUI Accident Statistics
Over 10,000 people lose their lives every year due to car accidents caused by drunk driving, according to a survey by the National Highway Traffic Safety Administration. Drug use is a factor in 20% of fatal car accidents.
Approximately 2,000 people are killed and 30,000 are injured in car accidents each year in California. Those who get behind the wheel after drinking considerably contribute to the problem. The consequences of a DUI conviction could be severe.
Drunk motorists endanger other road users because they are more prone to speed, react slowly, and make poor decisions while driving. Individuals should not always think of themselves first and avoid putting themselves in dangerous situations.
Victims of accidents caused by drunk drivers should not feel guilty about seeking medical attention for their injuries. Seek legal counsel before making any final choices or cooperating with investigators. Consult an attorney with experience in this area immediately if you or a loved one has been hurt in an accident and drunk driving is suspected as a contributing factor.
DUI Accident Lawyers for Victims in Los Angeles
When it comes to claiming compensation for injuries or wrongful death, victims of accidents caused by drunk drivers in California have the same rights as victims of accidents caused by any other drivers in the state.
In order to discuss your case and gain advice on how to negotiate a fair settlement with the insurance company, please contact us to set up a meeting with one of our expert attorneys.
Our trusted drunk driving accident victim lawyers in Los Angeles have extensive experience and accolades advocating for accident victims. Our clients have been awarded compensation totaling $400 million.
Call (888) 488-1391 now or click the "Do I Have a Case?" on our website to set up a free consultation with one of our attorneys.