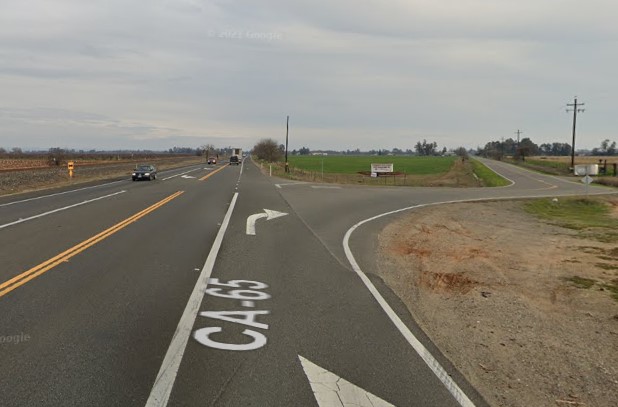 A man was killed and a woman was hospitalized following a two-vehicle collision near Wheatland, Yuba County, on Friday, January 13, 2023.
According to the California Highway Patrol, the fatal crash occurred along State Route 65 near Oakley Lane.
In a moderate rain, the 32-year-old male driver from Olivehurst was driving a Honda north on Highway 65 while a 55-year-old woman was traveling south in a Subaru, near Oakley Lane, reportedly at 60 mph.
The man lost control of the Honda due to dangerous turning movement and unsafe speed, causing him to veer into the southbound lane, where his car crashed with the Subaru.
He was killed at the scene while the woman sustained injuries, a broken femur, and broken ribs, and was transported to the hospital. No details on their identities have been released.
The CHP stated that alcohol does not seem to have had a role in the collision as they continue their investigation.

Fatal Two-Vehicle Accident Statistics
One person is killed and ten are injured in car accidents every minute in the United States. Almost two million children and young adults under the age of 24 die every year from these preventable causes of death, and at least 10 million more are harmed.
By the year 2050, it is expected that over 10,000 people will have lost their lives in road accidents in the state of California. It's a shame that these figures will only go up in the years to come.
There has been a 23.5-percent rise in deaths caused by cars since 2012. In 2017, car collisions caused 3,898 deaths and 279,223 injuries. As many as nine persons per one hundred thousand took public transportation that year and died.
Almost every driver in the Golden State has a terrifying story about a close call on one of the state's treacherous freeways. The chances of being in an accident can be reduced by using defensive driving strategies and maintaining a safe and dependable vehicle.
Car Accident Lawyers in Yuba County
California has a civil court system where those who have been hurt in car accidents can seek monetary damages. If you think you might need legal help settling your insurance claim, don't hesitate to contact our reputed law office.
Call our legal office immediately to schedule a free consultation with one of our highly-rated attorneys if you or a loved one has been injured in a car accident and you are considering filing a personal injury or wrongful death claim.
Our trusted car accident lawyers in Yuba County have the recognition, vast experience, and expertise to advocate properly for accident victims. Our clients have been awarded compensation totaling $400 million as of yet.
Contact (888) 488-1391 or click the "Do I Have a Case?" on our website to schedule a free consultation with one of our lawyers.