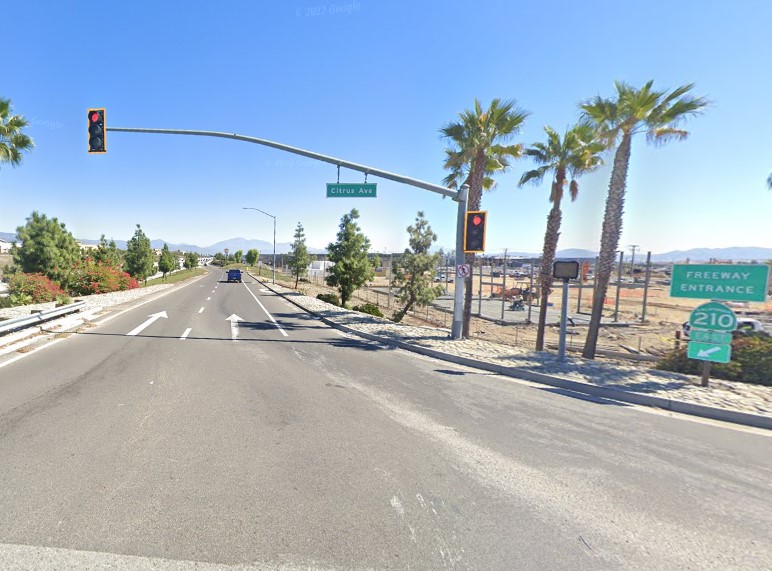 A two-vehicle crash killed at least three people and injured three more near Fontana early Saturday morning, January 14, 2023.
According to reports, the fatal collision transpired around 6:28 a.m. on the eastbound side of the 210 Freeway, near the Citrus Avenue exit.
Authorities began receiving complaints regarding a wrong-way vehicle traveling westbound on the eastbound side of the 210 highway. Then, minutes later, they received information that a wrong-way driver was passing the 15 freeway at roughly 100 mph when the crash occurred.
The wrong-way driver entered Carnelian Street and drove in and out of the HOV and #1 lanes for approximately 6 miles while traveling the wrong way.
The driver was traveling in a green 2012 Ford Fusion sedan when he collided with a silver 2001 Lexus RX series SUV carrying two parents and three children.
The wrong-way Ford driver, a 23-year-old Fontana man, was pronounced dead at the scene. A 16-year-old female passenger in the Lexus and its 43-year-old driver was killed.
Meanwhile, a 5-year-old girl, a 3-year-old boy, and a 42-year-old woman aboard the Lexus suffered critical injuries.
The Lexus' occupants were all Highland residents, though it was unclear whether they were all family members. They were all taken to nearby hospitals.

Fatal Two-Vehicle Collision Statistics
Accidents cause injuries or permanent disability to 20 to 50 million individuals worldwide. Every day in the United States, three thousand two hundred eighty-seven persons are killed in automobile accidents.
Car accidents that result in death or serious injury are common in California. In the state, around 10% of all traffic-related deaths occur. In 2017, it was reported that 3,889 fatalities and 276,823 injuries occurred in car accidents.
According to the California Office of Traffic Safety, 19,938 car accidents in the state in 2019 resulted in injuries or fatalities. There was a 1.6% decrease over the previous year.
Every day, thousands of individuals go by car. As a preventative step, safety procedures must be taken, such as not driving while intoxicated, using seat belts and kid restraints, boosting visibility, and utilizing proper headlights and road lighting.
Reliable Car Accident Lawyers in Fontana
Many auto accident victims die or suffer grave injuries for months or years after they have been involved in an accident. In a severe collision, injuries such as lacerations, broken bones, brain injuries, spinal injuries, and head injuries may occur.
A collision injury can result in high medical costs and lost earnings, so you might wonder how much your claim is worth.
These collisions may result in fatal injuries due to several complex situations. Identifying the cause of a crash can take days or even months. Investigators must pay close attention to and pinpoint possible causes of accidents.
Regardless of the severity, our Fontana car accident attorneys can handle the case immediately. Our experience and knowledge will ensure that we succeed in your case, irrespective of the underlying reasons, at-fault parties, legal requirements, or injuries you have sustained.
To safeguard your legal rights, we can help you at every stage. Contact us at (888) 488-1391 or fill out our online "Do I Have A Case?" form.