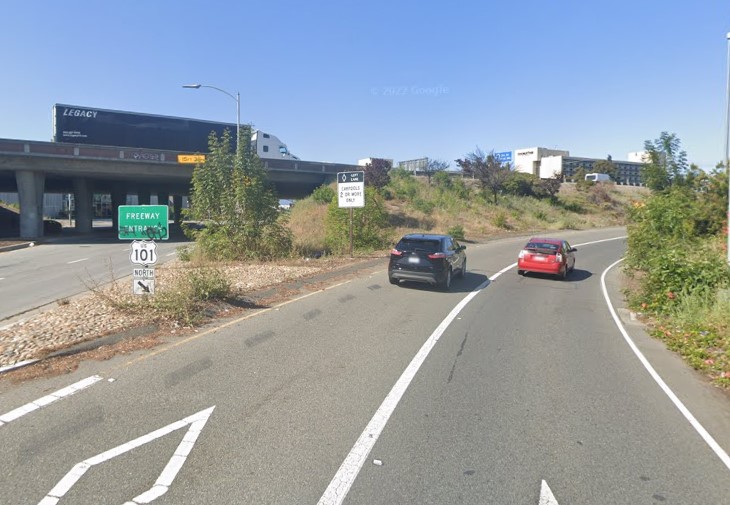 A Toyota driver was killed following a two-vehicle collision in San Jose early Saturday morning, January 14, 2023.
Reports indicated that the deadly crash occurred around 1:00 a.m. on Highway 101, close to the Brokaw Road exit.
Weather conditions appeared to be rainy, cold, and wet.
According to authorities, a 2020 Toyota Camry was traveling northbound when the driver made an unsafe turn for unknown reasons, causing the car to veer right.
As a result, the Toyota lost control and collided with a 2023 Tesla Model Y.
The Toyota struck a metal light post, rocketed through a wooden traffic sign pole, rolled down a dirt slope at the North First Street onramp, and overturned.
When paramedics arrived at the scene, the Toyota driver was declared dead. Meanwhile, the 45-year-old Tesla driver of San Carlos was uninjured.
It is unclear how fast the Toyota was traveling on Highway 101, and alcohol is not considered a contributing factor.
Officials have not released the victim's name, and the crash remains under investigation.

Fatal Two-Vehicle Collision Statistics
Research by the Fatality Analysis Reporting System estimates that 35,766 people died in car accidents in the US in 2020. There were 11.7 fatalities per 100,000 people or 1.34 deaths for every 100 million kilometers traveled.
Unintentional injuries are the leading cause of death in the United States for those aged 1 to 44. For instance, it's estimated that an automobile collision happens once every minute. Each year, these result in one million injuries and two million fatalities.
More Californians died in auto accidents in 2014 (23.5%) than in 2013. At least 3,898 people died, and 276,823 people were injured in the 4,856,778 documented auto accidents in 2017.
For every 100,000 residents, nine people perished on the state's streets in 2018, according to the statistics.
Maintaining a safe following and leading distance when driving, obeying traffic laws, and keeping yourself and other road users safe are all required. Despite these precautions, fatal car accidents nevertheless happen often.
Reliable Car Accident Lawyers in San Jose
It may take additional time and effort for victims of traumatic accidents to recover fully. In addition, medical debt may be burdensome to the victim, and they may be unable to find employment for an extended period.
After filing an insurance claim, it can take time to figure out what to do. With our firm, you are assured that your lawsuit will be handled effectively and efficiently.
You can reduce your financial burden by obtaining compensation from the irresponsible party or their insurer. Ideally, you should consult with an experienced lawyer who can assist you throughout the legal process and help you win your case.
Our car accident attorneys in San Jose are dedicated to meeting our client's needs at all times. Our goal is to expedite your recovery so you can resume your routine as soon as possible.
To learn more about your legal options, call (888) 488-1391 or complete the "Do I Have A Case?" link on our website.