An unidentified 27-year-old woman was killed after a two-vehicle crash in Yuba City on Saturday morning, January 15, 2022.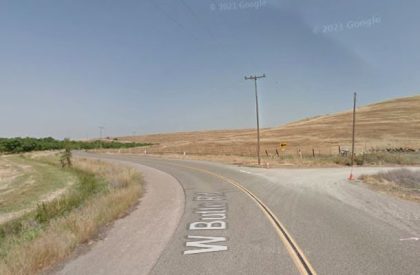 The fatal accident occurred on Highway 20 over the Sutter Bypass Bridge, just west of West Butte Road, at approximately 7:15 a.m.
A 2018 Toyota Corolla was traveling eastbound on Highway 20 when the driver lost control and spun out on the two-lane highway. It then collided with a westbound 2006 GMC Sierra.
Due to the severity of the impact, Toyota sustained major damage. Unfortunately, the Toyota driver was killed in the crash and was pronounced dead at the scene.
Meanwhile, the other driver was uninjured in the crash. The identities of the involved parties have not been disclosed.
The California Highway Patrol is further investigating the cause of the collision. They will attempt to determine the factors and the liability in the accident.

Fatal Two-Vehicle Collision Statistics
According to a National Highway Traffic and Safety Administration (NHTSA) study, approximately 1.7 million Americans were engaged in an injury-related automobile crash in 2015.
A related study published in 2013 discovered that car accident resulted in almost 2.4 million hospital visits. This figure includes almost 33,800 fatal car accidents.
According to the California Office of Traffic Safety (OTS), there were 3,563 vehicle accidents fatalities in the state in 2018. Thousands of people are dealing with grief and abrupt loss due to California's catastrophic accidents.
According to California law, if a motorist bumps or hits an unattended parked car, the driver must leave their name and contact information for the driver of the damaged vehicle.
If someone's property has been harmed, it is criminal to drive away in an attempt to avoid detection. A misdemeanor is punishable by up to six months in jail and a $1,000 fine.
Fatal Car Crash Lawyers for Victims in Sutter County
If you lost a loved one in a fatal car accident caused by the negligence of another driver, you have the legal right to hold that driver accountable for their actions.
It would help if you got legal counsel from an experienced California car accident attorney. The sooner you have a reliable advocate on your side, the greater your prospects of getting the compensation you deserve for your injuries will be. Your attorney can assist you in protecting yourself from the practices used by insurance companies to avoid paying claims or to pay them fairly.
Our compassionate and experienced Sutter County fatal car accident lawyers from Arash Law are here to assist you following the death of a loved one in a car accident. Arash Law has recovered over $200 million in compensation for prior clients just like you. We assist victims and their families in San Francisco, Riverside, San Jose, San Diego, Sacramento, Sherman Oaks, and other California cities. We also provide legal services in a variety of languages.
To schedule your free no-obligation fatal car accident case review, call Arash Law at (888) 488-1391 or contact us online today.