A 16-year-old boy was killed after a deadly multi-vehicle crash near Watmaugh on Sunday morning, January 16, 2022.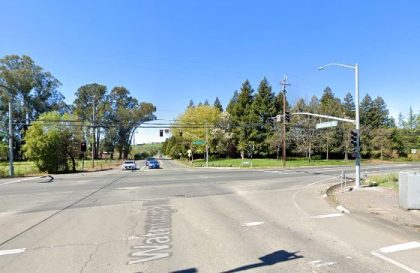 The accident occurred at approximately 11:13 a.m. along 116, also known as Stage Gulch Road, near the intersection of Watmaugh Road.
A westbound Cadillac was traveling on State Route 116 and was attempting to pass other vehicles when it drifted across the double yellow lines.
The Cadillac then collided head-on with two oncoming vehicles before crashing into a fourth vehicle. A 16-year-old Cadillac passenger was killed in the mishap.
Another 16-year-old was seriously injured in the crash and was airlifted to Santa Rosa Memorial Hospital. Meanwhile, the Cadillac driver also sustained major injuries and was taken to Queen of the Valley Hospital for treatment.
Authorities later determined that the Cadillac driver was under the influence at the time of the accident. He will be facing reckless driving-related charges.
The second driver was transported to Marin General Hospital with minor injuries while her passengers were unharmed. The occupants of the third vehicle were not wounded, but the driver of the fourth vehicle was treated at the site for minor injuries.
The Napa CHP is further investigating the crash.

Fatal Multi-Vehicle Crash Statistics
Car accidents that involve multiple vehicles are simply one of many types that occur on the road. When three or more vehicles are involved in a collision, this type of accident is more likely to occur. The most prevalent cause is a "chain-reaction" crash, in which one vehicle bumps into another, forcing it to collide with additional vehicles on the road.
These accidents are frequently caused by mechanical issues, intoxicated drivers, reckless drivers, and speeding.
A driver may have been under the influence of alcohol or drugs, or they may have been careless and not paying attention to the road at the time of the accident. Reckless driving in California is defined as "driving a vehicle upon a highway with intentional or wanton disregard for the safety of individuals or property" under Vehicle Code Section 23103.
Reckless driving can be characterized by various behaviors and judgments that are both dangerous and reckless. No two cases are the same because of the broad definition of "reckless driving," no two cases are the same.
Around 33% of fatalities in major car accidents result from careless driving, which results in over 13,000 deaths per year. It is estimated that 30 percent of all car accidents are caused by reckless drivers driving too fast. Forty percent of all fatal car accidents are caused by drunk driving. About 20% of car accident injuries are caused by distracted driving.
Fatal Collision Lawyers for Victims in Sonoma County
After losing a loved one in a car accident, you may worry about how you'll ever get back to normal. However, there will be no quick remedies, but you can learn to cope and re-establish yourself.
A deadly vehicle accident wrongful death claim is difficult to handle on your own, especially if you don't have expert legal experience. For your sake and the sake of your loved ones, it would be best if you retained a deadly automobile accident attorney.
Following the death of a loved one in a car accident, our compassionate and skilled Sonoma County fatal collision lawyers are here to help. Clients similar to the one, in this case, have received more than $200 million in compensation thanks to the work of Arash Law.
In addition to San Francisco, Riverside, San Jose, San Diego, Sacramento, Sherman Oaks, and other California towns, we aid victims and their loved ones. Additionally, we offer a wide range of legal services in several languages.
Call Arash Law at (888) 488-1391 or send us an email to get started on your no-risk, no-obligation examination of your deadly vehicle accident case.