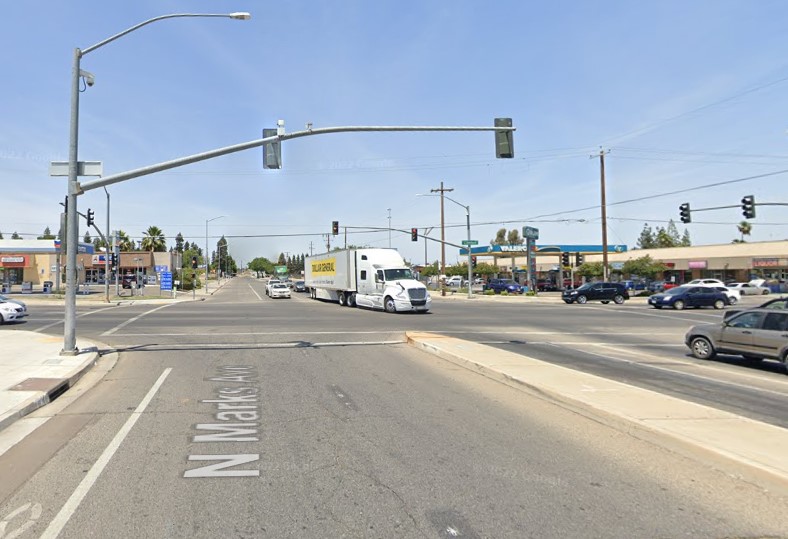 A male pedestrian was found dead after a hit-and-run crash in Fresno on Monday night, January 16, 2023.
Reports stated that the fatal collision occurred around 8:00 p.m. on Marks and Clinton avenues.
Authorities arrived and discovered the victim, in his 40s to 50s lying on the road after he was struck by two vehicles. He was reportedly crossing the street while crossing south on Clinton.
It was believed that a Ford sedan was the first vehicle to hit the pedestrian. On Marks, the motorist was traveling north.
After hitting the person, the driver stopped, got out of the vehicle, and fled the scene.
According to police, the second vehicle that struck the pedestrian was also traveling north on Marks and failed to notice the individual lying in the road before hitting him.
The second driver was a young person who remained at the site and cooperated with the authorities.
Officials are searching for the first driver who may be charged with vehicular manslaughter and hit-and-run.

Fatal Hit-And-Run Crash Statistics
Annually, 680,000 people are injured or killed in hit-and-run accidents in the United States, according to the AAA Foundation for Traffic Safety. Recent statistics show a rise in the number of hit-and-run fatalities. 24% of pedestrian fatalities were caused by these accidents in 2020.
In a hit-and-run collision, two vehicles collide, and the driver flees the scene without aiding the injured.
The consequences of hit-and-run accidents are severe because victims are often ignored or delayed in getting medical care, and auto accidents also have high social and financial costs.
In most cases, distracted driving leads to pedestrian injuries. Drivers may converse with passengers, talk on the phone, or change the radio while driving. The likelihood of people crossing the street increases when they are multitasking.
Wear bright clothing in such situations to avoid getting hurt. Crossing the street only when you can see the oncoming car is best.
Hit-And-Run Accident Lawyers in Fresno
Accidents may result in minor injuries, serious injuries, and even death. Injuries sustained in a hit-and-run may be upsetting. You need to take action if someone you care about is hit by a speeding car that leaves the scene.
Our hit-and-run accident attorneys in Fresno are highly experienced in dealing with these cases daily. You can rely on them to objectively assess your situation and identify a solution.
In addition to maximizing your settlement, they ensure you are compensated for various costs, including lost earnings, medical bills, and pain and suffering.
Your chances of winning in court can be improved with the help of our legal team. Due to their extensive trial and settlement negotiation experience, they can address these situations effectively.
You can reach us by dialing (888) 488-1391 or by filling out the "Do I Have A Case?" form on our website to schedule a free case review with a reputable attorney.