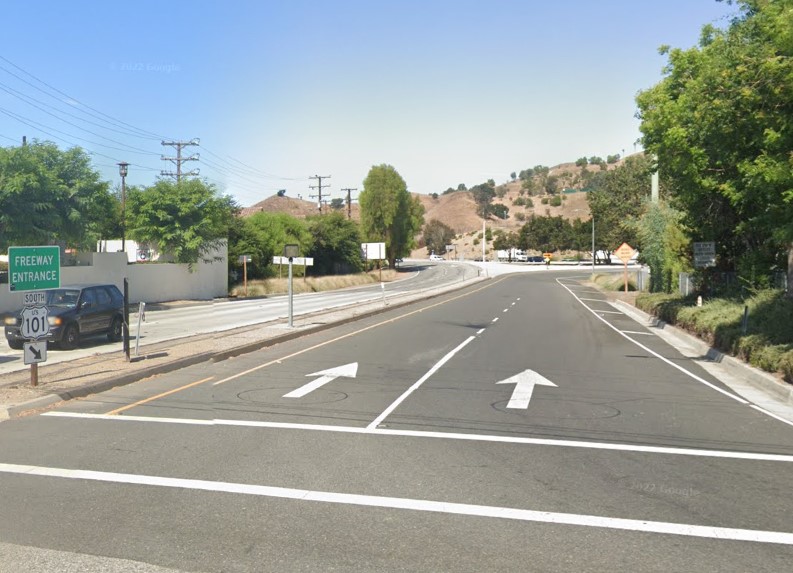 One person was killed and two others were injured following a multi-vehicle collision near Calabasas on the western San Fernando Valley on Monday evening, January 16, 2023.
According to the California Highway Patrol, the fatal three-vehicle crash transpired at 9:12 p.m. along 101 Freeway on the westbound lane at Las Virgenes Road.
The circumstances leading to the crash remain unclear, but three cars were reportedly involved. One slammed through the center divider and left a trail of debris on the roadway before coming to rest on its top.
One person was killed, but it was unclear whether they died at the scene or at the hospital. Responders from the Los Angeles County Fire Department extricated two injured people from the wreckage and one person sustained minor wounds. It's unclear how many were involved and the extent of their injuries.
Two westbound lanes and three eastbound lanes of the 101 Freeway underwent a lengthy hard closure, according to CHP officials. An investigation into the collision ensued.

Fatal Multi-Vehicle Accident Statistics
Every minute, the NHTSA logs a new car accident. Experts believe that human error accounts for the vast majority of California's 3,000 annual road fatalities.
Over 110,000 people in the United States die in automobile-related incidents annually, according to the National Safety Council. A total of 3,898 individuals have lost their lives and 2,710,000 have been injured as a result of these disasters in California.
The death rate has risen by an average of 23.5% each year in the five years since 2013, and this upward trend is likely to continue for some time.
When two or more vehicles are involved in an accident, we call it a "multi-vehicle crash." The National Highway Traffic Safety Administration reports that in 2010, over 13,000 individuals were killed in accidents involving four or more automobiles.
Car Accident Lawyers in Los Angeles County
Car accident victims and their families in California have the same legal protections as those who suffer the loss of a loved one due to any other unfortunate event.
Don't hesitate to get in contact with our highly regarded legal team if you or a loved one has been injured and you want to submit a claim for personal injury or wrongful death.
Reach out to us today to schedule your no-cost initial consultation with one of our lawyers and find out whether we can help you win your case.
Our trusted car accident lawyers in Los Angeles County have extensive experience and distinctions advocating for accident victims. Our clients have been awarded compensation totaling $400 million so far.
Contact (888) 488-1391 or click the "Do I Have a Case?" on our website to schedule a free consultation with one of our lawyers.