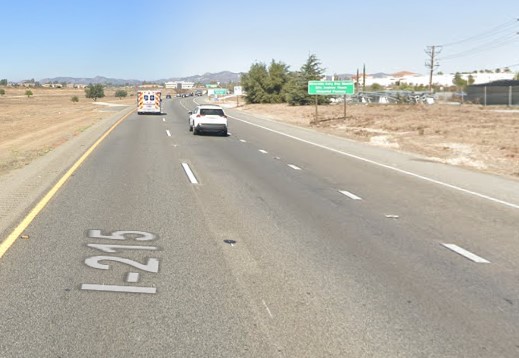 Three people were killed and one person was hospitalized and arrested for drunk driving in a solo car crash in Murrieta on Monday morning, January 16, 2023.
According to the California Highway Patrol, the fatal crash occurred around 4:00 a.m. along 215 Freeway on the southbound transition lane to 15 Freeway.
21-year-old Alexia R. from El Cajon was driving a 2008 Dodge Charger along with three passengers in moderate rain when she veered off the roadway, hit a metal post, and the vehicle caught fire.
Two people, a male and a female believed to be in their early 20s or late teens, were thrown out of the car, while a 15-year-old girl died inside. Alexia was able to exit the vehicle by herself.
The driver was sent to the Arrowhead Regional Medical Center in Colton after suffering severe burns. She was then detained on suspicion of felony drunk driving and gross vehicular manslaughter.
As the investigation continued, anyone who may have seen the crash was urged to contact the CHP Temecula office.

Fatal DUI Accident Statistics
According to research conducted by the National Highway Traffic Safety Administration, drunk driving is directly responsible for the deaths of over 10,000 Americans each year. Twenty percent of all fatal car accidents include drug usage.
In California, these accidents account for 2,000 deaths and 30,000 injuries each year. Problematic driving conditions are exacerbated by intoxicated motorists. Intoxicated motorists who are found guilty may face severe penalties.
Intoxicated motorists pose a threat to other drivers on the road because they are more likely to participate in dangerous activities, including speeding, swerving, and making poor decisions. It is imperative that people constantly put their safety first and refrain from putting themselves in harmful circumstances.
Accident victims who are injured due to a drunk driver's actions have every right to seek medical attention. Before making any final decisions or participating with investigators, you should consult with an attorney. If you or a loved one have been injured in an accident and drunk driving is suspected, you should consult an attorney without delay.
DUI Accident Lawyers for Victims in Riverside County
Victims of accidents caused by drunk drivers in California have the same rights as victims of other traffic-related incidents in the state to seek monetary compensation for injuries or wrongful death, according to the state's legal code.
We invite you to contact us to schedule a consultation with one of our skilled attorneys to review your case and receive professional and helpful guidance on how to negotiate a fair settlement with the insurance company.
Our trusted drunk driving accident victim lawyers in Riverside County have extensive experience and accolades advocating for accident victims. Our clients have been awarded compensation totaling $400 million.
Call (888) 488-1391 now or click the "Do I Have a Case?" on our website to set up a free consultation with one of our attorneys.