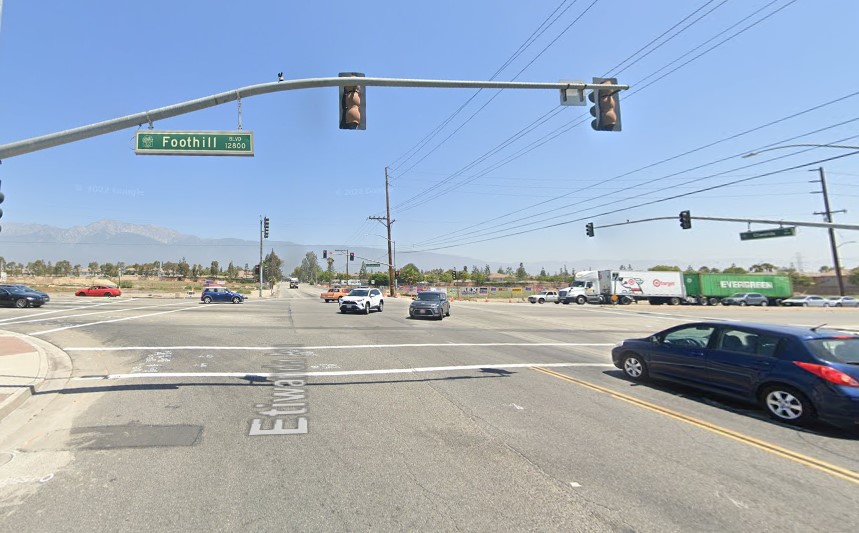 Two bicyclists were killed after being struck by a suspected DUI driver in Rancho Cucamonga on Tuesday evening, January 17, 2023.
According to the San Bernardino County Sheriff's Department, the fatal crash occurred around 8:20 p.m. near the Foothill Boulevard and Etiwanda Avenue intersection.
The driver, 23-year-old Robert G. from Fontana, was traveling east on Foothill Blvd. in his sedan when he entered the right-hand bicycle lane to overtake other vehicles and struck the bikers.
The 33-year-old female bicyclist was declared dead at the scene, while the 41-year-old male bicyclist died in the hospital where he was transported. Their names have not been made public.
They were reportedly traveling west in the bicycle lane against traffic flow when the sedan slammed into them. The car driver fled the scene but got involved in a second collision, with no injuries recorded, later that evening.
He displayed indications of being under the influence of alcohol when he was arrested and detained on suspicion of felony DUI and gross vehicular manslaughter. The investigation into the fatal crash is still ongoing.

Fatal DUI Accident Statistics
According to research supported by the National Highway Traffic Safety Administration, drunk driving is directly responsible for over 10,000 deaths yearly in the United States. Roughly 20% of all fatal car accidents include substance addiction.
Around 2,000 people in California lose their lives, and another 30,000 are injured every year as a direct result of these types of occurrences. It's bad enough that drunk drivers make the roads unsafe. There could be severe repercussions for anybody guilty of driving under the influence of alcohol or drugs.
Drunk drivers threaten other motorists because they are more likely to speed, swerve, and make poor decisions when behind the wheel. One must always put one's own safety first and stay out of potentially dangerous circumstances.
Injured parties who are the victims of car accidents caused by drunk drivers have the legal right to receive medical care. Before making any decisions or collaborating with investigators, you should consult an attorney. Injured people who suspect a drunk driver should not wait to get in touch with a lawyer.
DUI Accident Lawyers for Victims in San Bernardino County
According to California law, those injured or killed due to an accident caused by a drunk driver have the same right to sue for damages as those who suffer losses from any other type of traffic accident.
To analyze your case and receive expert and helpful counsel on reaching a fair settlement with the insurance provider, we encourage you to contact us to book a free consultation with one of our skilled attorneys.
Our trusted drunk driving accident victim lawyers in San Bernardino County have extensive experience and accolades advocating for accident victims. Our clients have been awarded compensation totaling $400 million.
Call (888) 488-1391 now or click the "Do I Have a Case?" on our website to set up a free consultation with one of our attorneys.