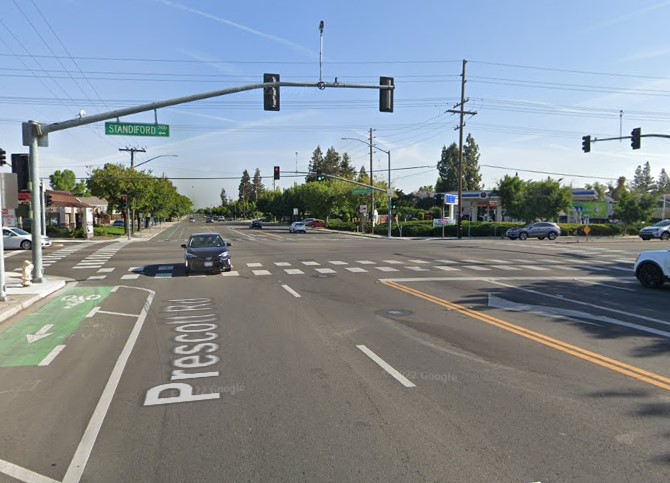 A 65-year-old female pedestrian was killed after being struck by a DUI driver in Modesto on Tuesday evening, January 17, 2023.
According to the Modesto Police Department, the fatal crash occurred around 9:45 p.m. along Prescott Road south of Standiford Avenue.
Responders arrived at the scene to locate the woman and learned she was walking across the road when she got struck by an SUV.
The victim was declared dead on the spot. Although her name hasn't been made public, it has been established that she lives in Modesto.
Initially reported as a hit-and-run, the driver, identified as 60-year-old Michael R. from Modesto, was tracked down several blocks away with the aid of witnesses.
Following his arrest, Russ was charged with felony hit-and-run, DUI, murder, and manslaughter.

Fatal DUI Accident Statistics
Over 10,000 people per year are killed in the United States due to drunk driving, according to studies funded by the National Highway Traffic Safety Administration. Substance abuse is a factor in 20% of fatal car crashes.
These incidents cause 2,000 annual deaths and 30,000 annual injuries in California. Drunk drivers compound already dangerous road conditions. Those convicted of driving while impaired by alcohol or drugs may face serious consequences.
Drunk drivers endanger everyone else on the road because they are more prone to engage in risky behaviors, including speeding, swerving, and making bad decisions. Every person should always prioritize their safety and avoid risky situations.
Victims of accidents caused by intoxicated drivers have the right to seek medical treatment for their injuries. Please talk with an attorney before making any final choices or cooperating with investigators. Accident victims who suspect drunk driving should not waste any time contacting an attorney after suffering injuries.
DUI Accident Lawyers for Victims in Modesto
Victims of accidents caused by drunk drivers in California have the same rights as victims of other traffic-related incidents in the state to seek monetary compensation for physical injuries or wrongful death, according to the state's legal code.
We invite you to contact us to schedule a consultation with one of our skilled attorneys to review your case and receive professional and helpful guidance on how to negotiate a fair settlement with the insurance company.
Our trusted drunk driving accident victim lawyers in Modesto have extensive experience and accolades advocating for accident victims. Our clients have been awarded compensation totaling $400 million.
Call (888) 488-1391 now or click the "Do I Have a Case?" on our website to set up a free consultation with one of our attorneys.