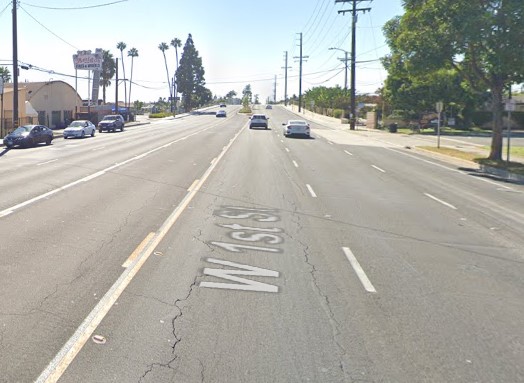 A pedestrian was confirmed dead after a hit-and-run crash in Santa Ana on Wednesday night, January 18, 2023.
According to authorities, the collision transpired around 8:00 p.m. in the 2800 block of West 1st Street.
According to reports, the victim crossed north on First street when the westbound vehicle struck them and immediately fled.
The unidentified pedestrian was brought to a nearby hospital, where they succumbed to their injuries.
Authorities are appealing to the public to locate the driver. No details were released about the vehicle and the suspect.
It is unknown if alcohol was a factor in the crash, and investigations are currently underway.

Fatal Hit-And-Run Crash Statistics
Annually, 680,000 Americans suffer injuries or lose their lives in hit-and-run accidents, according to the AAA Foundation for Traffic Safety. A growing number of fatalities have occurred from hit-and-run accidents. In 2020, pedestrian deaths were caused by 24% of these accidents.
Studies have indicated that California has the highest severe and fatal pedestrian injuries rate. 2012 saw 893 pedestrian fatalities and nearly 14,000 injuries in California.
During a hit-and-run collision, one vehicle strikes another before speeding away without aiding the injured individual.
Pedestrian injuries are often caused by distracted driving. While operating a vehicle, the driver may talk on the phone, change the radio, or engage with other passengers. When multitasking, it is more likely that someone will cross the street without being seen.
It is suggested that pedestrians wear bright clothing as a precaution to avoid accidents. Crossing the street only when you see an approaching car and with caution would be best.
Hit-And-Run Accident Lawyers in Santa Ana
As one grieves for a loved one, their perspective on life gradually changes. Other companies, such as insurance firms, may also contact you. It is advisable to speak to an attorney before initiating any legal action. It is recommended to obtain legal counsel before submitting any claim.
The surviving relatives may file a wrongful death lawsuit within this time frame. When a loved one dies unexpectedly, family members are entitled to sue for monetary compensation, emotional pain, and mental suffering.
After you have been injured in a hit-and-run accident, you can count on our hit-and-run accident lawyers in Santa Ana to fight for the compensation you need and deserve.
Our experienced legal team can handle these legal matters on your behalf. Clients can focus on improving their health or grieving their losses without distractions.
For a free consultation with our legal professionals, contact us at (888) 488-1391 or use the website's "Do I Have A Case?" link.