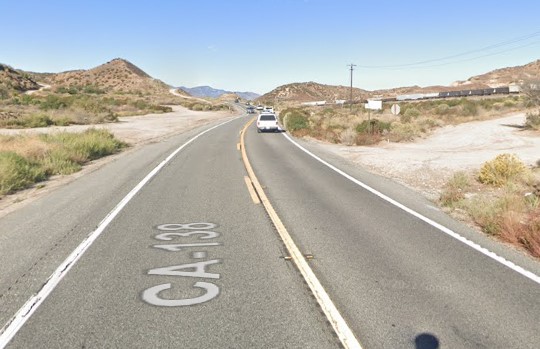 A two-vehicle collision resulted in the death of one driver and injured another in Cajon Pass early Wednesday morning, January 18, 2023.
Reports indicate that the deadly crash occurred around 4:21 a.m. on State Route 138, close to milepost 19.00 and Summit Post Office Road.
According to authorities, the collision involved an overturned car and a blue Ford Explorer.
The 39-year-old driver of a 2001 Dodge 1500 died from his injuries after being ejected, and another suffered severe injuries. The critical patient was transported by land ambulance to Arrowhead Regional Medical Center.
Based on the investigation, the Dodge's driver was moving eastward at an unknown speed when he lost control, drove up a dirt hillside, and overturned the car into the road.
Officials have not identified the deceased until his next of kin has been informed.
Highway 138 was shut down in both directions for several hours, causing significant delays for many drivers.
Further investigations into the collision are underway.

Fatal Two-Vehicle Collision Statistics
In the United States, automobile accidents claimed the lives of 35,766 persons in 2020, according to a Fatality Analysis Reporting System report. For every 100 million miles driven, there were 1.34 or 11.7 fatalities for every 100,000 people.
Unintentional injuries account for most fatalities among Americans aged 1 to 44. For instance, it's estimated that one auto collision occurs every minute. These factors are responsible for two million deaths and one million injuries annually.
Auto accidents have claimed the lives of 23.5% more Californians than in 2013. In 2017, 4 million 856 797 auto accidents were reported, resulting in 3,898 fatalities and 276,823 injuries. According to the data, nine individuals per 100,000 residents perished on the state's streets in 2018.
You must observe traffic regulations, maintain a safe following and leading distance while driving, and take safety measures to safeguard yourself and other road users. Despite these safety measures, fatal car accidents continue to occur frequently.
Car Accident Lawyers in San Bernardino County
Those who sustain severe injuries in a car accident are more likely to accumulate medical debt and miss several years of work. Additionally, the victim may experience emotional distress, psychological trauma, and physical discomfort.
You should seek legal advice if an insurance company pressures you because compensation requires both parties to cooperate. If recorded testimony is used against you, the negligent party may be held less responsible for their actions.
As soon as possible, our San Bernardino County car accident attorneys will investigate the circumstances of the case. Through tried-and-true legal strategies, we negotiate with insurance companies to ensure that damages are adequately compensated.
In the past few years, we have recovered over $400 million for our clients. Our firm is an experienced, reputable law firm that has been handling these matters for over ten years.
Schedule a no-cost consultation by calling us at (888) 488-1391 or completing our online "Do I Have A Case?" form.