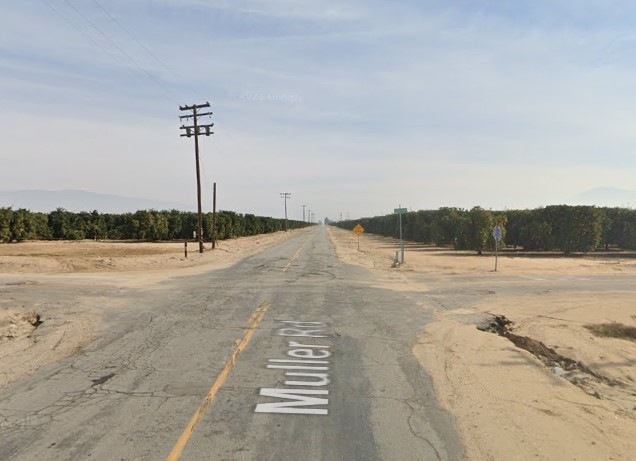 A man was killed and three others, including two BPD officers, were injured in a two-vehicle collision in southeast Bakersfield on Thursday morning, January 19, 2023.
According to the Bakersfield Police Department, the fatal collision involving a patrol car occurred shortly before 2:23 a.m. at the Muller Road and South Vineland Drive intersection.
Prior to the crash, BPD officers were engaged in a high-speed pursuit with a stolen tan GMC Sierra in Central Bakersfield. The officers pulled the vehicle over at no success at 3300 California Avenue around 2:00 a.m.
A chase ensued for the suspect driver, 21-year-old Michael S., on Edison Highway, but was called off due to "high speed." The driver was spotted a few minutes later on southbound Weedpatch Highway, recommencing the chase. He was eventually arrested and sent to a hospital after getting involved in a solo car crash.
The circumstances of the deadly crash were unclear, but it reportedly involved a BPD patrol car and a black Honda. A man was declared dead at the scene, while a woman and two BPD officers were transported to a local hospital after sustaining moderate to major injuries.
The California Highway Patrol is looking further into the fatal collision.

Fatal Two-Vehicle Accident Statistics
One person is killed and ten more are injured in car accidents per minute in the United States. About two million children and young adults under the age of 24 die each year from such a preventable cause, and at least 10 million more are injured.
By the year 2050, it's predicted that there will have been around 10,000 people killed in road accidents in the state of California. It's discouraging to think that these numbers will only rise in the years to come.
The number of people killed in car accidents has risen by 23.5% since 2012. In 2017, automobile accidents were responsible for 3,898 deaths and 279,223 injuries. Nine people per one hundred thousand took public transit that year.
Almost every California motorist has a horrific tale to tell about a near miss on one of the state's dangerous highways. The probability of being in an accident can be reduced by practicing defensive driving techniques and keeping your car well-maintained.
Car Accident Lawyers in Bakersfield
When someone is injured in an automobile accident in California, they have the right to file a civil lawsuit in order to seek financial compensation. If you need legal help with an insurance claim, don't hesitate to get in touch with our reputable law office.
If you or a loved one has been injured in a car accident and you are thinking about filing a personal injury or wrongful death lawsuit, you should call our firm immediately to schedule a free consultation with one of our highly regarded attorneys.
Our trusted car accident lawyers in Bakersfield have the recognition, vast experience, and expertise to advocate properly for accident victims. Our clients have been awarded compensation totaling $400 million as of yet.
Contact (888) 488-1391 or click the "Do I Have a Case?" on our website to schedule a free consultation with one of our lawyers.