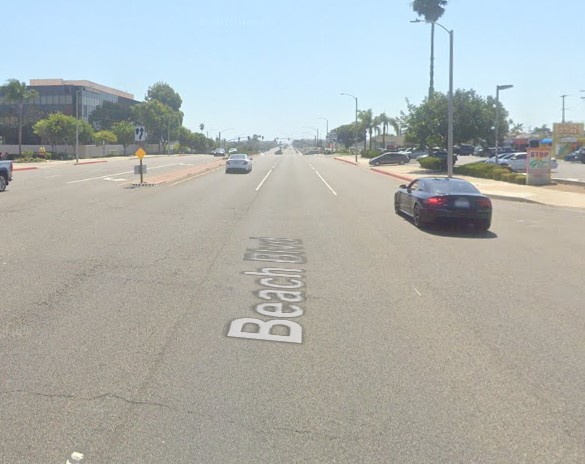 Authorities reported that an 80-year-old male driver was killed in a two-vehicle collision in Huntington Beach on Thursday morning, January 19, 2023.
According to the Huntington Beach Police Department, the fatal crash occurred around 9:00 a.m. at Beach Boulevard and Knoxville Avenue intersection.
The deceased driver pulled his Toyota Corolla out of a driveway on Beach Blvd's east side and traveled west when he collided with a Porsche Panamera traveling north on Beach.
The identity of the driver was not immediately made public. The 28-year-old Porsche driver stayed on the scene and cooperated with the authorities.
The exact cause of the deadly crash is still being investigated, but the police said alcohol or drugs didn't seem like factors in the collision.

Fatal Two-Vehicle Accident Statistics
Statistics show that every minute in the United States, one person is killed and ten more are injured as a result of an automobile crash. The annual death toll from such avoidable causes among children and young people under 24 years old is approximately two million, with an additional ten million suffering preventable injuries.
About 10,000 people are expected to have died in traffic accidents in California by the year 2050. It's disheartening to anticipate these numbers will continue to climb in the future.
There has been a 23.5% increase in fatalities due to automobile accidents since 2012. As many as 3,898 people lost their lives and another 279,223 were injured due to car accidents in 2017. In that year, 9 out of 100,000 commuters died while using public transportation.
Almost every driver in California has a terrifying story about an accident they narrowly avoided. Maintaining a safe distance from other vehicles and employing other defensive driving tactics can lessen the likelihood of being involved in a collision.
Car Accident Lawyers in Huntington Beach
In California, if you suffer injuries in a car crash, you have the legal right to bring a civil case to recover damages. Don't hesitate to contact our reputed law firm if you need legal assistance with an insurance claim.
You should call our office right away to set up a free consultation with one of our highly-rated attorneys if you or a loved one has been harmed in a car accident and are considering filing a personal injury or wrongful death claim.
Our trusted car accident lawyers in Huntington Beach have the recognition, vast experience, and expertise to advocate properly for accident victims. Our clients have been awarded compensation totaling $400 million as of yet.
Contact (888) 488-1391 or click the "Do I Have a Case?" on our website to schedule a free consultation with one of our lawyers.