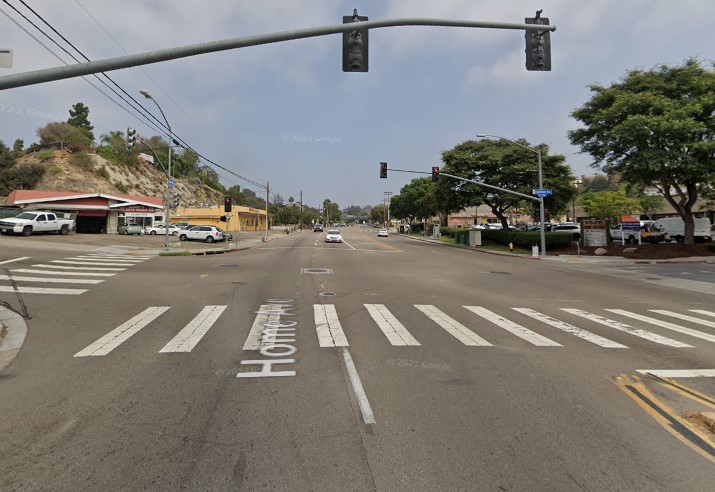 An elderly woman, believed to be in her 70s to 80s, was sent to the hospital with serious injuries after being hit by a vehicle in San Diego on Thursday evening, January 19, 2023.
According to the San Diego Police Department, the crash occurred around 5:43 p.m. near the Gateway Drive and Home Avenue intersection in the Fairmount Park neighborhood.
The woman was reportedly walking north to south across 1700 Gateway Drive outside a designated crosswalk when she was struck by a 51-year-old man in a white 2019 Buick Enclave traveling east on Home Avenue.
The authorities claimed the pedestrian still crossed the street despite facing a red traffic light and a "No Ped Crossing" sign. Meanwhile, the traffic light for the driver was green.
The woman sustained major injuries, including several serious fractures, and was transported to a nearby hospital. Authorities are still unsure of the woman's identity.
As the investigation continues, police believe both the driver and pedestrian were not under the influence of alcohol or drugs at the time of the collision.

Pedestrian Accident Statistics
According to the data collected by the Governors Highway Safety Association, the total number of people who got killed in traffic-related accidents fell by 14% between the years 2007 and 2016. However, over that time period, the number of pedestrian fatalities increased by 27 percent.
A grim picture is painted by these numbers for the future of pedestrians in the United States, where many more people may be at risk of suffering permanent injuries or deaths after being hit by a vehicle.
Car accidents claimed 809 lives and injured 14 thousand people in 2012. This would suggest that pedestrian accidents are more common in California, as are the injuries and fatalities sustained by pedestrians in these accidents.
It is estimated that 6,000 persons lost their lives in traffic accidents in 2016. A total of 88 individuals were dying every minute on average as the year drew to a close. Roughly 137,000 people in the United States experience injuries every year that require hospitalization.
Pedestrian Accident Lawyers in San Diego
If you are a pedestrian in California and you or a loved one have been wounded or killed in a traffic accident, you have the same legal rights as drivers, bikers, and passengers in any type of car accident through a personal injury or wrongful death lawsuit.
Try to imagine the heartbreak of having a loved one taken away due to the carelessness of another person. You may pursue legal action that could result in a monetary settlement if something like this happens to you. You or a family member may want assistance submitting an insurance claim after being involved in an accident.
Our trusted pedestrian accident lawyers in San Diego have extensive experience and accolades advocating for accident victims. Our clients have been awarded compensation totaling $400 million.
Call (888) 488-1391 now or click the "Do I Have a Case?" on our website to set up a free consultation with one of our attorneys.