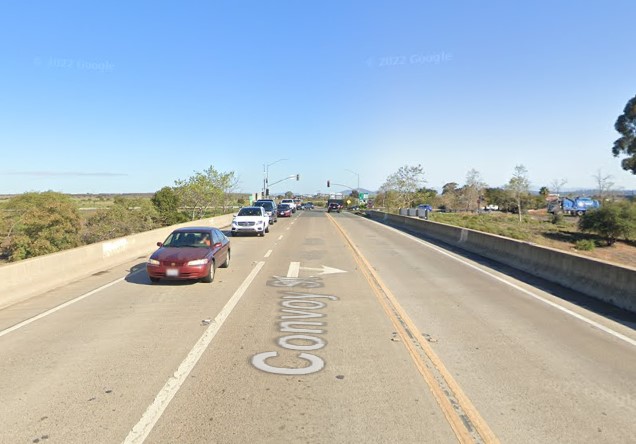 A 27-year-old male pedestrian was killed after falling from an overcrossing and getting hit by several vehicles in San Diego on Thursday evening, January 19, 2023.
According to a press release from the California Highway Patrol, the deadly collision occurred at around 7:55 p.m. on Convoy Street, overcrossing onto State Route 52.
How the Chula Vista man fell from the overpass remains under investigation. He landed in the westbound traffic lanes of SR-52 and was struck by multiple vehicles.
Responders arrived at the scene and declared the man dead on the spot. A toxicology report is being prepared by the San Diego County Medical Examiner's Office to determine whether the pedestrian was under the influence at the time of the crash.
The nearest of kin will be informed of the pedestrian's passing first before CHP releases his identity. There were no other reported injuries. No updates on the drivers involved were also released.
All SR-52 westbound lanes at Convoy Street were shut down as the investigators processed the crash site for roughly an hour. Anyone who may have seen the crash is urged to contact the authorities.

Fatal Pedestrian Accident Statistics
Data provided by the Governors Highway Safety Association shows a 14% decrease in traffic-related fatalities between 2007 and 2016. However, the number of pedestrian fatalities rose by 27 percent throughout that time.
These statistics present a bleak picture for the future of pedestrians in the United States, where a significant increase in the likelihood of serious or fatal injuries following a vehicle collision is likely.
In 2012, 809 persons lost their lives in car accidents and 14,000 were injured. This would imply that injuries and fatalities incurred by pedestrians in accidents are more likely in California.
A total of approximately 6,000 people perished in traffic-related fatalities in 2016. At the end of the year, an average of 88 people were passing away per minute. The annual number of Americans hospitalized due to injury is around 137,000.
Pedestrian Accident Lawyers in San Diego
In the event that you or a loved one are hurt or killed as a pedestrian in the state of California, you have the same rights to file a personal injury or wrongful death case as motorists, bicyclists, and passengers in a car crash.
Imagine the pain of losing a loved one because of someone else's negligence. If something like this occurs to you, you may be able to seek monetary compensation through the legal system. If you or a loved one has been in an accident, filing an insurance claim can be a complicated and time-consuming process.
Our trusted pedestrian accident lawyers in San Diego have extensive experience and accolades advocating for accident victims. Our clients have been awarded compensation totaling $400 million.
Call (888) 488-1391 now or click the "Do I Have a Case?" on our website to set up a free consultation with one of our attorneys.