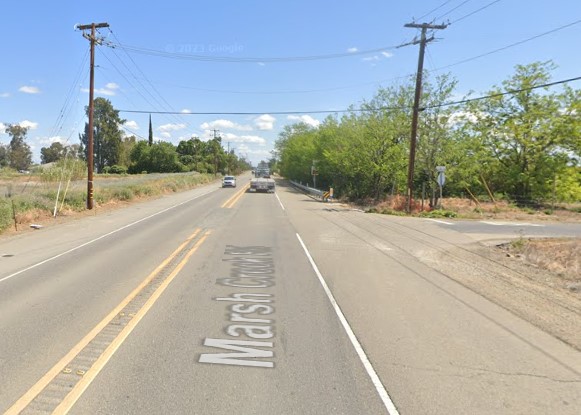 One person was killed following a collision between a vehicle and a big rig in Byron near Brentwood on Friday morning, January 20, 2023.
According to the California Highway Patrol, the fatal two-vehicle collision occurred at around 9:42 a.m. on State Route 4 or Marsh Creek Road and Hoffman Lane.
The crash involved a silver Nissan Sentra with one occupant heading north on Hoffman Lane and a Tractor-trailer, also with one occupant, traveling east on Highway 4.
Responders from the Contra Costa County Fire Protection District arrived at the scene and found the big rig to have crashed into the Nissan's left side after the Nissan driver seemingly entered the junction right in front of the truck.
The Nissan driver was sent to the hospital via ground ambulance while CPR was administered. He was declared dead after succumbing to his injuries, while the truck driver was reportedly unharmed.
The investigation into the deadly crash continued while the CHP and Contra Costa County Sheriff managed the traffic in the area.

Fatal Big Rig Accident Statistics
In the case of a collision, truck drivers are less likely to sustain life-threatening injuries or even death than drivers of other vehicles or pedestrians because big rigs are stronger vehicles. The National Safety Council reports that this is the primary killer of both drivers and pedestrians. Any person involved in a collision with a truck faces serious physical and psychological risks.
Around 4,000 people each year are killed in the United States in accidents involving trucks. Even though these large vehicles only account for 2% of accidents, they cause 11% of fatalities.
In accordance with federal and state regulations, the maximum legal speed for large vehicles in California is 55 miles per hour. The number of people killed in car accidents involving semi-trucks can be reduced by enforcing slower speeds for these vehicles.
California had over 28,000 truck-related accidents in 2017, per the state's Office of Traffic Safety. There were at least 369 fatalities and about 9,000 injuries in that terrible year.
Big Rig Accident Lawyers in Contra Costa County
Any California resident who suffers personal injury or wrongful death as a result of a truck-related traffic collision should file a lawsuit in a California court. In the event that you ever require the services of an attorney, our prestigious law firm is here to help.
Contact us if you're interested in discussing your case with one of our leading attorneys and learning more about how we can assist you in maximizing your financial settlement offer from the insurance provider.
Our trusted truck accident lawyers in Contra Costa County have extensive experience and accolades advocating for accident victims. Our clients have been awarded compensation totaling $400 million.
Call (888) 488-1391 now or click the "Do I Have a Case?" on our website to set up a free consultation with one of our attorneys.