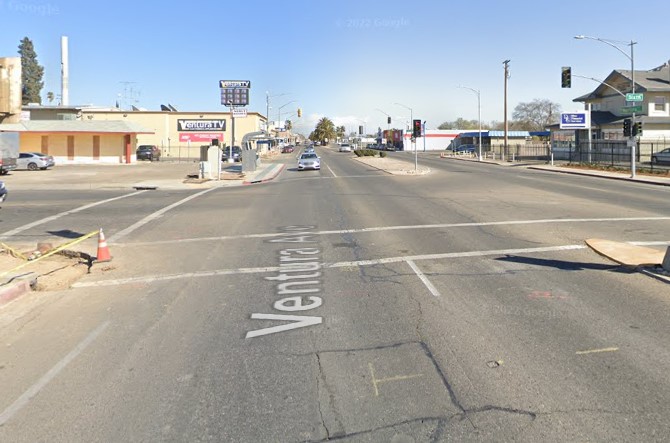 Authorities reported that a man was killed after being hit and pinned under a vehicle following an altercation in southeast Fresno on Friday evening, January 20, 2023.
According to the Fresno Police Department, the fight that preceded the fatal crash occurred at around 7:30 p.m. near the Ventura Avenue and 6th Street intersection.
Two men were reportedly fighting at a nearby business establishment. One of them got into his car and began driving aggressively, doing donuts in the intersection, as witnesses saw. This led to the driver hitting the man he'd been fighting with and pinning him beneath his car.
Responders from the Fresno City Fire Department assisted in extricating the pedestrian from under the car. He eventually died from his wounds despite life-saving procedures performed by the medical crew.
The driver remained at the scene and cooperated with the investigators. They believed alcohol most likely played a role in the crash and said the driver could be charged with vehicular manslaughter.

Fatal DUI Accident Statistics
Studies by the National Highway Traffic Safety Administration demonstrate that drunk driving kills over 10,000 people per year in the United States. About 20% of all fatal car accidents involve substance addiction.
More than 2,000 people are killed and 30,000 are injured in California every year as a direct result of such incidents. Drunk drivers already present a significant risk to society. The penalties for driving under the influence of drugs or alcohol are severe.
Drunk drivers endanger everyone on the road because they are more likely to exceed posted speed limits, make erratic maneuvers, and drive recklessly. When in doubt, a person should always put oneself first and leave potentially dangerous situations.
Injured parties in car accidents caused by drunk drivers have the legal right to seek medical attention. Before making any decisions or cooperating with investigators, you should consult with an attorney. Victims of an accident who suspect a drunk motorist are encouraged to seek legal counsel without delay.
DUI Accident Lawyers for Victims in Fresno
Victims of an auto accident caused by an intoxicated driver in the Golden State of California have the same rights as other victims of traffic accidents.
Get in touch with our reputed law firm to set up a no-cost consultation with one of our skilled lawyers, who will analyze your case and advise you on how to negotiate a fair financial settlement with the insurance company.
Our trusted drunk driving accident victim lawyers in Fresno have extensive experience and accolades advocating for accident victims. Our clients have been awarded compensation totaling $400 million.
Call (888) 488-1391 now or click the "Do I Have a Case?" on our website to set up a free consultation with one of our attorneys.