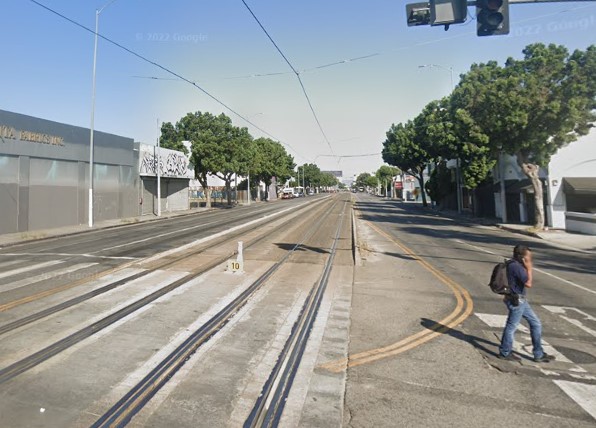 Four people sustained minor injuries following a train collision in south Los Angeles on Friday morning, January 20, 2023.
According to authorities, the crash transpired around 9:41 a.m. at the 1300 block of East Washington Boulevard.
Responders were dispatched to the scene involving a train and a vehicle.
As a result, at least four people sustained minor injuries.
Officials stated that the train was a Metro A Line, formerly the Blue Line, which caused service disruption.
Investigations into the collision are ongoing.

Train Collision Statistics
According to the National Transportation Safety Board, pedestrians are killed in train accidents more frequently than in automobile accidents. Faulty crossings, outdated or missing safety equipment and inadequate warning systems often cause train accidents.
It is estimated that a train collides with a person or a car every two hours. Over a thousand people are killed in train accidents every year. A total of 2,300 people were injured, and 600 people were killed.
The most efficient form of transportation is by train. A conductor's ability and frequency of repairs contribute to employee and passenger safety. Due to their recklessness or inadequate shortcuts, passengers are put at risk.
Train accidents have claimed nearly 7,200 lives in the United States since 1997. The most prominent cause of fatalities on American railroads is train collisions with pedestrians, surpassing all other reasons.
The most common causes of railway accidents are derailments, worn-out tracks, disregard for safety requirements, inadequate security, and other forms of negligence.
Trusted Train Accident Attorneys in Los Angeles
Those injured in a California rail disaster should not hesitate to seek legal representation. An attorney will assist you in obtaining compensation from the insurance company if you've been injured in an accident or suffered a wrongful death.
Compensation needs to be given to victims for the suffering they have endured. You can sue for damages if you have been injured in a train accident, regardless of who was at fault.
Our Los Angeles train accident lawyers are dedicated to advocating for victims of these collisions. Through our efforts, our clients have been awarded a total of $400 million in compensation.
You can contact our legal team by calling (888) 488-1391 or clicking on the "Do I Have A Case?" link on our website.